Assyrtiko, an alternative to Chablis
Wine News
Clean, pure styles of wine with steely minerality are very much in vogue, and classic wines such as Chablis have certainly benefitted. With prices rising in tandem with interest, it's worth exploring other wines that provide a similar mineral-inflected cut and linearity. One such wine is Assyrtiko.
Assyrtiko is an indigenous grape variety from Greece, or to be more precise, from the island of Santorini. Prices have risen on its native island due to increasing popularity and low-yielding old vines. Many vines go back 400 years, and are uniquely 'basket' weaved in the shape of nests, protecting the grapes from both wind and sun.
The grape's ability to retain acidity and freshness in hot climates has piqued the interest of winemakers further afield, with plantings in Australia and Alto Adige. From a buyer's perspective, its' versatility with food makes it an excellent wine for a restaurant list.
Our experts tasted a selection of Greek wines last April, and here is our hand-picked selection of Assyrtiko for you. The wines were tasted blind by panels of four experts, led by our Panel Chairs: Eric Zwiebel MW, cellar master at Summer Lodge Country Hotel in Dorset; Ana Sapungiu MW, Oddbins' head wine buyer, Igor Sotric, head sommelier at China Tang at the Dorchester and Dominique Vrigneau, buying director at Watermill Wines. The panels were also overseen by members of our Wine Judging Committee, John Hoskins MW and Dawn Davies MW.
Each wine was tasted individually then discussed by the panellists, with wines scoring 90 and above re-tasted by the Wine Judging Committee for final endorsement, and to ensure consistency across the panels.

Estate Argyros, Cuvee Monsignori, Santorini 2017 Greece
Pale light golden yellow with greenish hues. The aromas take you places. Firstly, sea breezes, oyster shell, then the white blossom springtime aromas, followed by sunny ripe fruits, succulent lemons, peaches, melons and papaya drenched in lime juice. You are on stoney, volcanic gravel, giving the mineral thrust. All the while the citrus and briny tang flow and dart through the complex flavours and textures. A champion amongst champions. 14%, 95 points.

Santo Wines, Assyrtiko Grande Reserve, Santorini 2016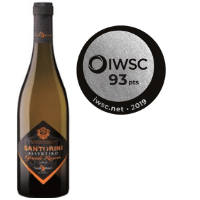 Light yellow with golden flashes. Textbook Assyrtiko. Zesty lemon aromas, limoncello, ginger spice, and a smoky element from the oak that gives a creamy barrel note to the palate. This is a lovely wine, showing elegance and pace. 15%, 93 points.

Koutsoyannopoulos winery, Assyrtiko, Santorini 2018 Greece
Pale watery straw colour. Citrus aromas burst from the glass, mingling with lemongrass, kaffir lime, and passionfruit. The acidic high notes carry the fruit almost to the roof, but are anchored by a lovely mineral base which keeps the flow beautifully sleek. 13.5%, 91 points.

Estate Argyros Assyrtiko, Santorini 2018 Greece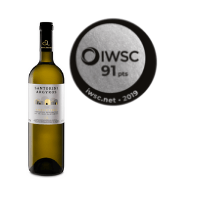 Pale watery lemon yellow. Bright yellow citrus nose, angelica, and dried flowers. Lip-smacking acidity with quite intense flavours – a really nice mineral streak. Long, crisp finish. Lovely. 13.5%, 91 points.
Available from Roberson Wine, RRP £22

Santo Wines, Nykteri Reserve, Santorini 2017 Greece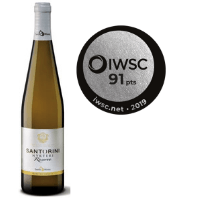 Roasting nuts and preserved lemons. A hint of yellow blossom. The palate has quite a lot of oak, but it suits this wine, which is complex and evolving. Minerality and a lip-smacking salinity add interest to the lovely flavours layering in the mouth. Excellent long finish. 15%, 91 points.

Karamolegos Winery, Artemis Karamolegos, Santorini 2017 Greece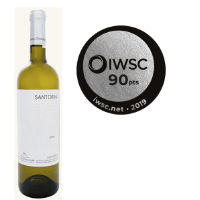 Pale straw yellow with green flashes. Lovely lemon curd aromas, with white blossom, a sprinkle of rosemary and finger lime. The palate is very elegant as well as mouth filling. Flavours and textures, citrus fruits, minerals, green apple and quince are all beautifully displayed as they travel across the palate, a gorgeous sunny, bright, crystalline long finish. 14%, 90 points.

Santo Wines, Assyrtiko, Santorini 2018 Greece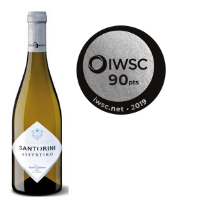 Watery lemon colour. Pomelo, lemon oil and perfumed candle wax. Tangy in the mouth, zesty lemon/lime characters dance on a mineral base. The finish is wonderful, fresh lime all the way. 13%, 90 points.

Domaine Porto Carras, Assyrtiko 2018 Greece
A very appealing wine, light and refreshing. Gentle apple/citrus notes, with a touch of oak lending support to the palate. Not a long finish but a very nice wine. 13.5%, 89 points.