IWSC 2018 winners celebrated at London Wine Fair
IWSC News
Austria, Greece and Israel received a series of Gold medals from the IWSC this week, as the competition announced its first release of 2018 results on Monday.
2,384 medals were awarded to over 20 northern hemisphere countries, including eight Gold and Gold Outstanding medals for English sparkling wines.
Some 30 producers were presented with their medals and certificates in person at the London Wine Fair, where winning wines were celebrated in exclusive tastings and masterclasses.
Mike Wagstaff, owner of Greyfriars Vineyard in Surrey, had his Greyfriars Vineyard Blanc de Blancs 2013 presented in a seminar by wine writer and presenter Susy Atkins alongside five other medal-winning English sparklers.
"We are amazed to have won a Gold Outstanding. It's unbelievable. You always like your own wines, but it's getting well-respected judges to like it probably even more than we do, which is just amazing.
"It was also amazing to have our wines alongside some of the very best in the English sparkling wine business. It's a fantastic experience", he added.
Kate Dowdeswell, sales director of Awin Barratt Siegel Wine Agencies, was also at the fair representing Californian winery Grgich Hills, which won Gold for its Grgich Hills Estate Cabernet Sauvignon Yountville Selection 2013.
"We love the IWSC medals", she said.
"They're fantastic for our customers. They give a real benchmark of quality across the industry. The brokers always enjoy reading the tasting notes and using those to sell to their customers, and the retailers appreciate the third party endorsement, so it's a huge benefit both to the winery and to ABS."
Portuguese company Sogevinus Fine Wines took home an impressive raft of seven medals, including Gold and Gold Outstanding for its Kopke Porto 40 Years Old Tawny and Kopke Porto Colheita 1981 respectively.
International business manager João Belo said "It's always such an honour and it helps us so much to get these awards. In essence, it really helps us convey our message to the trade. People feel more confident to support us, and that can only be positive."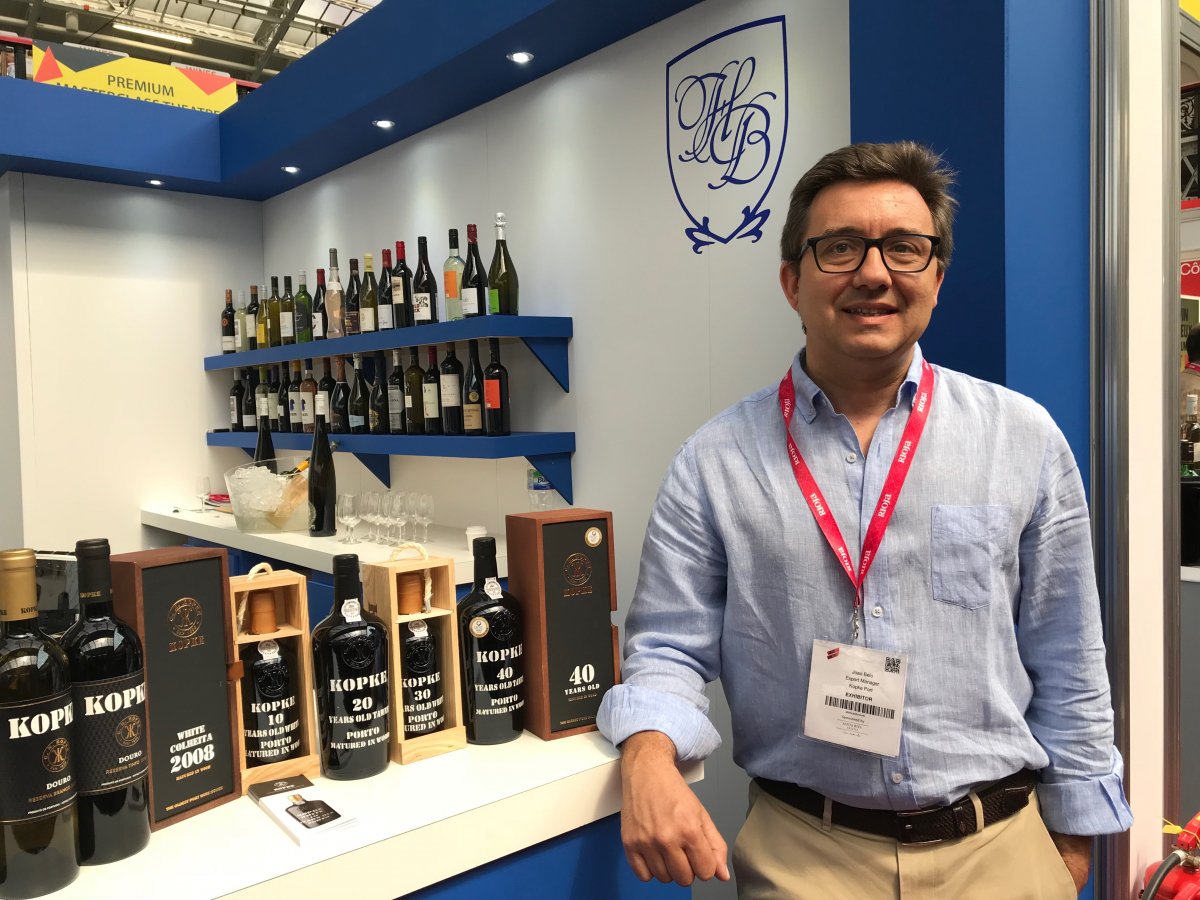 João Belo

Dr Charles Eid, founder of Lebanon-based Sendiäna Wines, attended the fair with Wines Unearthed, a section dedicated to introducing producers seeking representation to UK and international buyers. Sendiäna received a Silver medal for the Sendiäna Grand Vin 2013, which is produced in a monastery in the region of Mount Lebanon, where grapes are sourced from specially selected, high altitude vineyards.
Dr Eid was quick to praise the IWSC judging process: "We're incredibly proud. The IWSC is very well recognised in the UK and internationally, and to have won Silver in a competition that tastes wines blindly makes it even more credible", he said.

Watch the video: