31 days of German Riesling
Wine News
31 days of German Riesling
Riesling, perhaps the wine trade's favourite grape variety, is under the spotlight this month with the increasingly popular nationwide campaign - 31 days of Riesling – running from 1 to 31 July. The campaign was first launched in 2012 by Wines of Germany with the aim of spreading awareness of this very versatile grape variety by bringing all independent merchants, restaurants and wine bars to share their love for Riesling with their customers. You may ask why dedicate a month to one grape variety? Apparently, it takes 30 days to form a new habit, so welcome to the 31 days of Riesling!
Riesling may be the most loved grape variety within the industry, but it is the most misunderstood among wine drinkers more generally. The trade love it because it's so versatile and offers excellent value for money, often a great catch for many restaurant wine lists. It's refreshing and generally light in alcohol and it expresses a sense of place too. Not only is it food friendly, it comes in all styles: dry, off-dry, sweet and sparkling. It also has amazing ability to age, to the point of near indestructibility, especially when there is a bit of sweetness. So why is it not more fashionable among wine drinkers? It's quite possibly due in part to an image problem originating in the 1970s, when cheap and semi-sweet Liebfraumilch and Blue Nun in very tall fluted bottles were flooding our retail space (a bit like the cheap and cheerful Prosecco we are seeing at present). Today the bottle shape hasn't changed very much, the majority of Domain names remain unpronounceable, but the style has changed immeasurably. Most of the Riesling made in Germany now are dry, elegant and subtle, and account for some of the greatest wines in the world. I'm a big fan of Riesling, and the 31 days of Riesling campaign is the perfect opportunity to push the boundaries and to swap your Sauvignon Blanc for a glass of Riesling.
During the month of July, more than 100 related activities will take place across the country including promotions, tastings, wines by the glass etc. if you are keen to explore more on German Riesling, I strongly recommend visiting the Wine Barn, Justerini & Brooks, and Howard Ripley. They all specialise in German Riesling and offer an extensive selection.
Our experts tasted an assortment of German Riesling in April, and we have hand-picked a selection of their discoveries. The wines were tasted blind by panels of four experts, led by our Panel Chair Ben Llewelyn, Managing Director of Carte Blanche. The panels were overseen by members of our Wine Judging Committee John Hoskins MW and Dawn Davies MW.
Each wine was tasted individually then discussed by the panellists, with wines scoring 90 and above re-tasted by the Wine Judging Committee for final endorsement and to ensure consistency across the panels.

Charakter F., Steillage, Riesling, Escherndorfer Lump, Spätlese Trocken, Franken 2015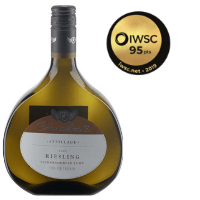 Some herby and spicy notes, along with acacia. Honeyed and marmalade notes that appear on the nose carry through to the palate. Showing some evolution, there is great complexity here. All is very well integrated in the long, lingering finish. 14%, 95 points
Not available in the UK

Charakter F., Steillage, Riesling Escherndorfer Lump Spätlese Trocken, Franken 2016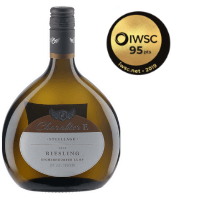 Polished peach and rhubarb fruit combine with honeyed acacia white blossom and petrol notes in this textbook Riesling. Great freshness and concentration on the mid-palate and a lovely finish. 95 points, 14%
Not available in the UK

Weingut Bürgerspital, Würzburger Stein-Harfe Riesling Qualitätswein Trocken VDP.GROSSES GEWÄCHS, Franken 2017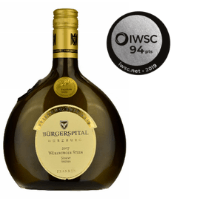 The clean, fresh palate here is led by white flowers and lime, but it is the steeliness and mineral elements that add complexity to this precise, finely judged wine. Juicy and long finish. 94 points, 13.5%
Not available in the UK
Available via buergerspital.de


Weingut Horst, Sauer Escherndorf am Lumpen 1655 Riesling GG, Franken 2017
Smoky nose and a concentrated palate that shows white stone fruit, citrus and floral characters. This is clean and linear, with a freshness that lingers right to the end of the long finish. 92 points, 13.5%
Not available in the UK
Available via weingut-horst-sauer.de


Weingut Bürgerspital, Würzburger Stein Riesling Qualitätswein Trocken VDP. Erste Lage, Franken 2017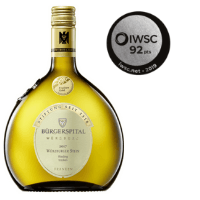 Clean and fresh, with a lovely limey citrus nose. There is a restrained and elegant fruit profile, high acidity and beautiful freshness, with a mineral undertone to the floral, peach and citrus palate.92 points, 12.5%
Available via buergerspital.de


Götzenberg, Riesling GG, Württemberg 2016
Fresh and clean, with a complex nose showing honey, acacia and lime. The palate is beautifully layered, with great depth of fruit and a very concentrated mid-palate. Rich and mouth-filling, with amazing length, this is a really interesting wine. 92 points, 12.5% Organic
Available via genusswerk.de

Weingut Karl Schaefer, Michelsberg GG, Pfalz 2015
Hints of kerosene and lime, ginger and white stone fruit on the nose carry through to the palate. Juicy with a long, mouthwateing finish. Organic. 91 points, 13%
Available via www.karl-scahefer.com


Weingut Reverchon, Filzener Herrenberg Riesling Spätlese, Mosel 2017
Showing some development, the sweetness is very well balanced by great acidity. The ripe tropical fruits – pineapple, along with ginger and sweet spice – are fresh and concentrated. This has a very long finish and further potential. 90 points, 7.7%
Available via wirwinzer.de

Weingut Reverchon, Filzener Herrenberg Alte Reben Riesling, Mosel 2017
This wine is defined by its good balance between crisp acidity, steely characters and the rich, ripe notes of pear, honeysuckle and smoke. Floral and honeyed notes add to the complexity. 90 points, 11.9%
Available via wirwinzer.de


Deutsches Weintor, Exklusiv Riesling Trocken, Pfalz 2017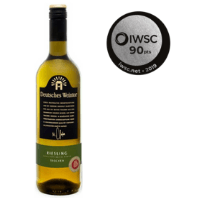 Pronounced nose. The palate of tropical and green fruits mixes seemlessly with the floral and minerality elements. Great concentration and balance, with a juicy finish. 90 points, 12.5%
Available via lidl.de


Hiestand, KREUZ Riesling JJ, Rheinhessen 2015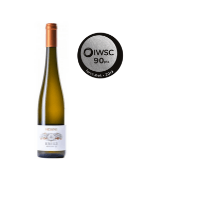 Beautifully complex, this wine has an elegant nose that show hints of kerosene, lime zest, grapefruit and white pear. The palate is mouth-filling and long, with refreshing acidity and a mineral edge. 90 points, 12%
Available via wirwinzer.de


Sweet:


Weingut Horst Sauer, Escherndorfer Lump Riesling Trockenbeerenauslese, Franken 2017

Rich and golden in colour with a gorgeous nose of orange marmalade in a warm jasmine-scented kitchen. The luscious botrytis-flavoured palate – with marmalade, apricot jam, honey and pineapple – is a joy to taste, and the highlight is the acidity, which stays with the sweetness in a glorious finish. 97 points, 7%
Available via: weingut-horst-sauer.de

Weingut Horst Sauer, Escherndorfer Lump Riesling Beerenauslese, Franken 2017
Complex nose: honey, camomile, marmalade and orange peel all well combined. The deliciously complex palate shows all these characters and adds tea, jasmine and cinnamon to the already complex mix. Rich and intense but with cleansing acidity – this is delicious! 95 points, 8%
Available via rotweisserose.com and weine-feinkost.de

Weingut Reverchon, Filzener Herrenberg Riesling Auslese, Mosel 2014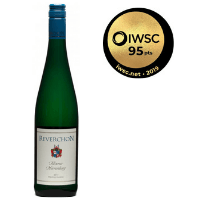 Very intense nose of lime and honey. There is beautiful balance and concentration on the palate, which shows pineapple, stone fruit with honey blossom and marmalade. There is a thread of lovely acidity throughout the superb length. 95 points, 8.6%
Available via: weingut-reverchon.de and wirwinzer.de


Veritable Wines & Estates, Hattenheim Nussbrunnen Riesling Auslese, Rheingau 2015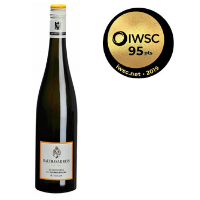 Great concentration and complexity on the nose, with obvious botrytis notes. The palate is powerful and multidimensional, brimming with luscious honey, orange peel, lemon curd and clementine flavours, yet it is completely balanced by the fine thread of fresh acidity. 95 points, 7%