Meet the maker: Barb Grossenbacher, Edelwhite Gin
Spirit news
Barb Grossenbacher's incredibly elegant Edelwhite Gin, which won our Gin and Tonic Trophy 2019 – has quite a backstory. The project grew out of Grossenbacher's WSET thesis, for which she wanted to make a gin that, in her words, "mirrored the idyllic area of Switzerland where I live." In order to do so, the spirit was made on the back of a mobile copper pot distillation truck by Grossenbacher's friend and local schnapps distiller Bruno Limacher.

The recipe was created with help from another friend, Sandra Limacher, an aromatherapist and medical herbal specialist who recommended the local botanicals that would lend the optimum complexity and balance. The 14 botanicals are harvested by Grossenbacher with help from neighbours, family and local farmer's wives, and, as Grossenbacher explains, the recipe has become Limacher's legacy…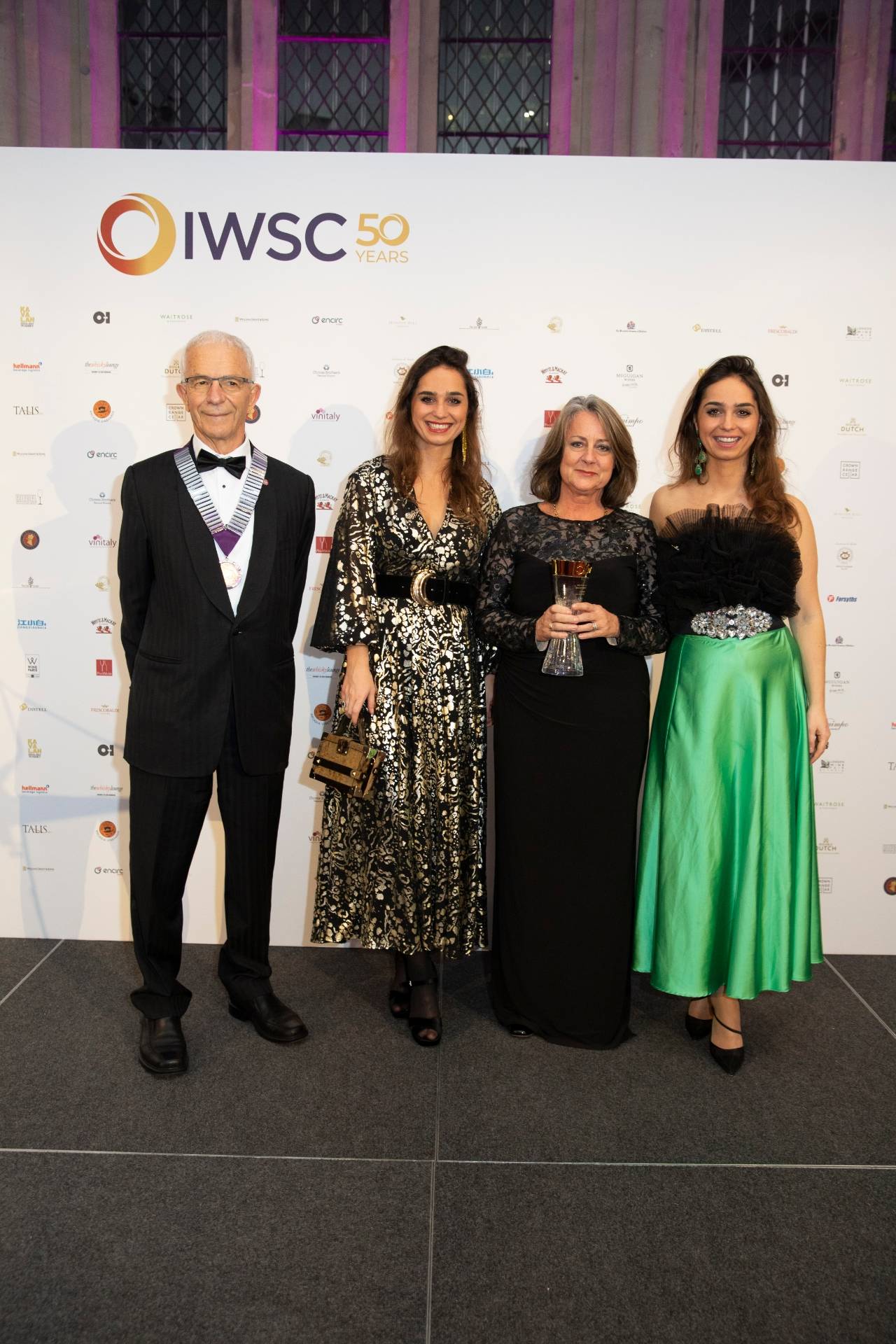 Barb Grossenbacher with IWSC President 2019 Sir George Fistonish and Joyce and Raissa de Haas of Double Dutch.

What makes your spirit unique?

If I were to describe Edelwhite's composition, we consider juniper the king, and the other botanicals as court ladies circling the king. Each and every member is important to keeping the entire circle in balance. We harvest and distill according to the lunar calendar, which we believe has an enormous impact on the outcome of the gin. But it was a new approach, and, to begin with, a challenge for our distiller, Bruno.

My daughter works at a home for mentally and physically challenged young adults, and they weave cords for the Edelwhite Gin booklets that hang from the bottle, and also for the hand-sewn fabric bags that are sold separately. They have also just finished designing a limited-edition hand-painted bottle.

Tell us about the challenges you've faced.

Sandra passed away in July 2019 after a very short battle with breast cancer. She never lived to hear the result of our IWSC trophy prize, but I promised her that I would continue our journey. I keep her words forever in my mind: "There is a part of our heart and soul in every bottle of Edelwhite, and people will feel that – that's what makes it special."

How has your company grown since its success?

Days after my first distillation, I heard about the IWSC and entered my gin, filling the bottle with a funnel from the tank and sending it off for judging. The news of a bronze medal was mind-boggling. It gave me and Sandra the motivation to continue to produce what started as a school project, and gave us the reassurance that Edelwhite was appreciated and recognized by gin experts.

In 2018 and 2019, we tweaked our recipe and our distillation techniques, and we were awarded 4 Bronze, 4 Silver, 1 Gold and 1 Trophy in various categories. Each medal meant the world to us. Then, in 2019, we won the World's Best Gin in the Gin and Tonic category! To have been judged at the most respected competition in the world by renowned judges from the spirits industry to be the best was beyond our wildest dreams, but somehow we always knew something like this would happen. Call it women's intuition.

As of May this year, I will have my own distillery to expand my range. The original Edelwhite Gin (a London Dry) will still be produced from Bruno's truck, but with my new distillery I can distill year-round, and experiment with the natural products in our area to create new and innovative botanical flavour profiles.

How has working with IWSC helped you?

When we attended the IWSC awards ceremony in November 2017, we knew that our long-term goal was to be among the best and one day be called up on stage. We told friends, neighbours (well, the world really) about our medal, with a pride second to none.

The recognition of winning awards from IWSC helps us stand out in a crowd of gins across the globe, allowing us to shine. It also provides assistance with marketing, and gives people a reason to choose over other brands, which is so important.