Meet Sir George Fistonich, IWSC President 2019
IWSC news
Sir George Fistonich is founder and president of acclaimed New Zealand winery Villa Maria.
Since quitting a life as a carpenter aged 21, Fistonich has gone on to celebrate more than five decades at the helm, winning countless local and international awards. In 2009 he received a knighthood for services to the New Zealand wine industry, the first of its kind.
Having stepped down as CEO earlier this year, Sir George remains an active part of Villa Maria's story and is currently working on '50-year plans', as well as enjoying quality time with his grandchildren.

Your career in wine has spanned over five decades – can you recall your early days?
My parents were Croatian and always made wine for their own use, just as a hobby, so I was brought up around wine and knew a bit about the basics. But my father wanted me to be a carpenter, and you had to do what your parents told you to do, so I did the apprenticeship.
Ultimately, though, I was quite determined and knew I wanted to be a winemaker. I decided to lease a 5-acre block in 1961 [as a 21-year-old] and started making wine. It was a one-man band, but I had a stroke of luck in my second vintage when I won two awards at the Royal Easter show [New Zealand's oldest national wine competition]. I had been tasting a lot with my Croatian friends, and that really gave me a bit of a start. In some ways, awards and trophies have always been a part of the Villa Maria story.
So, you're a supporter of competitions?
Yes, I've always been a supporter of awards. I honestly believe, contrary to a lot of people, that if it wasn't for awards, New Zealand wouldn't have anywhere near the status it has now.
Competitions mean people strive to become better. I know when we used to get gold medals or trophies opposition winemakers would go out and buy the wines and try to see how they could improve. We would do the same. Fifty years on and we're still passionate about shows.
To what extent has your success in previous years at the IWSC affected Villa Maria's standing and reputation among consumers around the world?
I really believe in the IWSC. It's the biggest show and covers everything – wine and spirits. Wine is such a complex, competitive product, and to achieve excellence, well, you can't do it without shows. That's been such a big part of Villa Maria and always will be.
Do you think people look for award stickers on bottles? Does it make a difference?
That's a funny one. You get some people who say it doesn't matter and people don't take any notice of it, but they definitely do – we've done research on it. There are so many wines on shelves now that people look at a wine with an award and think it's definitely a safe bet. It works – there's no doubt about it.
What does it mean to fulfil the role of IWSC president?
It was a surprise to be asked, because New Zealand is quite a small country and you expect those positions and titles to go to high-profile people from more traditional winemaking countries. So for me it's important that it came to someone from New Zealand. I'm a proud New Zealander and represent not only Villa Maria but also the country, so I see the big picture. It's a great honour.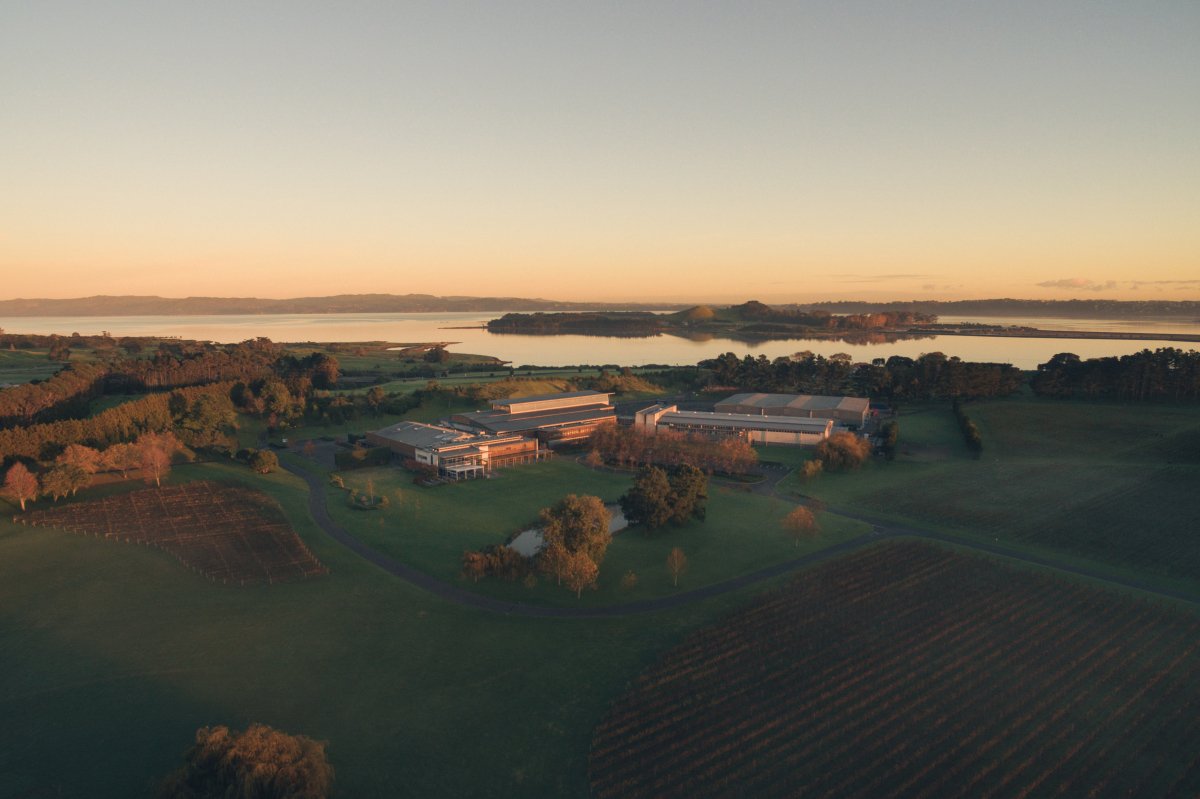 You've recently stepped down as CEO of Villa Maria – what has been your career highlight?
Thirty years ago I was bulldozed out of business, lost everything. I was put into receivership and that was a dramatic moment because I also lost my house and pretty much the company. That's not something you usually recover from but we performed a bit of a miracle and managed to turn it around. Through a series of fortunate events, my refusal to accept stupidity and a helpful publicity stunt, I attracted a partner and some funding and within six months we were back in business. The judge said to me that in 25 years, I was the first person who didn't take advantage of stretching my repayments over four or five years – I paid everyone back in six months. Reputation is important, and that went down well with creditors and has helped people trust me going forward. It was an interesting period and a big highlight recovering from that.
You were also awarded a knighthood for services to New Zealand wine. How did that feel?
I'm not really oriented that way. I'm incredibly passionate about wine, but you're only as good as the team around you. Surrounding yourself with really good people is important so when the knighthood came it was very exciting, but to me it was part of a team effort and the whole company celebrated. I felt a bit stupid at the time walking into the hall and being announced as 'Sir George', but like anything you get used to it and then think, 'You're the only one in the wine industry in New Zealand.' So in a funny way, the competitive streak comes out and says, 'Let's hope it stays that way.'
How has the New Zealand wine scene changed over the last 50 years?
Somewhere along the line we've accrued this incredible winemaking talent in New Zealand. People are making wine here, not because they've inherited companies, but because they've gone to college, trained, and are genuinely passionate about it. The raw talent within winemaking is outstanding. I don't think much ordinary wine is made in New Zealand – there's been a huge surge in quality and that's all happened quite quickly.
What's the most exciting thing on the New Zealand wine scene at the moment?
The big secret at the moment is the Chardonnay coming out of New Zealand. We're recognised for Sauvignon Blanc and Pinot Noir but we messed things up with Chardonnay 10 years ago, using too much oak. Now we've cut it back and are making outstanding Chardonnays. I was in Australia for eight days recently and they're making great ones too, but I haven't found one yet that's as good as we've got.
We do need to broaden out though – there's a need for change and new varieties. It's dangerous to rely just on Sauvignon Blanc. There's a bit of Albariño around, probably about a fraction of a percent but we've planted quite a lot. There's interest in Grenache too, the lighter styles. There's no Fiano in New Zealand yet so we're looking at growing some.
When you get a few spare hours, what do you like to do to fill your time?
I like reading, it's relaxing. I've just finished A Man and His Mountain, about the late Jess Jackson. He was a controversial character – broke a few rules, upset a few people – but he achieved a large profitable company that is still 100% family owned. I'm passionate about Villa Maria becoming a long-term family company and not being sold off, so there's some similarity there. It's a great read if you're interested in wine, history and people.





Read the full results magazine.