IWSC winning wines shine at Flavours of New Zealand
Wine news
Ten top winning IWSC wines were presented in London yesterday at Europe's largest New Zealand trade tasting. Flavours of New Zealand 2018 celebrated the very best of New Zealand wine, with some 400 trade guests tasting over 450 wines in County Hall on the south bank of the Thames.
Major importers and distributors such as Negociants UK, Mentzendorff, Liberty, Enotria and Corney & Barrow rubbed shoulders with producers from the long-established – Cloudy Bay, Babich, Wither Hills – to newcomers like Central Otago's Akitu (brought in by Mentzendorff), and ex-Craggy Range winemaker Steve Smith's new négociant company Smith and Sheth Cru.
Four seminars on a range of themes were held throughout the day, with Rebecca Gibb MW and Peter McCombie MW teaching up to 40 guests in each session. In one of her masterclasses, Master of Wine Gibb pointed out that while Pinot Noir dominates, there's a dynamic minor industry in New Zealand's classic reds like Syrah and Cabernet Merlot blends.
Syrah only makes up a 0.5% proportion of the country's wine production, but Gibb identifies it as "perhaps the most distinctive, characterful varietal wine that is coming out of New Zealand . . . Kiwi Syrah is wonderfully idiosyncratic, and Cabernet Merlot blends offer New World ripeness with classical structure."
"Is the future of New Zealand reds all Pinot Noir? No. I like to think that it's Syrah, but it requires really enthusiastic people to get behind it, as well as the Cabernet Merlot blends", she said.
Master of Wine McCombie also looked at alternative blends – in his case, grapes grown in minuscule quantities, such as Albariño, Gruner Veltliner, Pinot Meunier and the red Lagrein, a niche product even in its home country of Italy, where it is almost exclusively confined to Alto Adige. In New Zealand there are some eight hectares in total. In contrast, the aromatic Austrian grape Gruner Veltliner, with 46ha, looks like a major industry.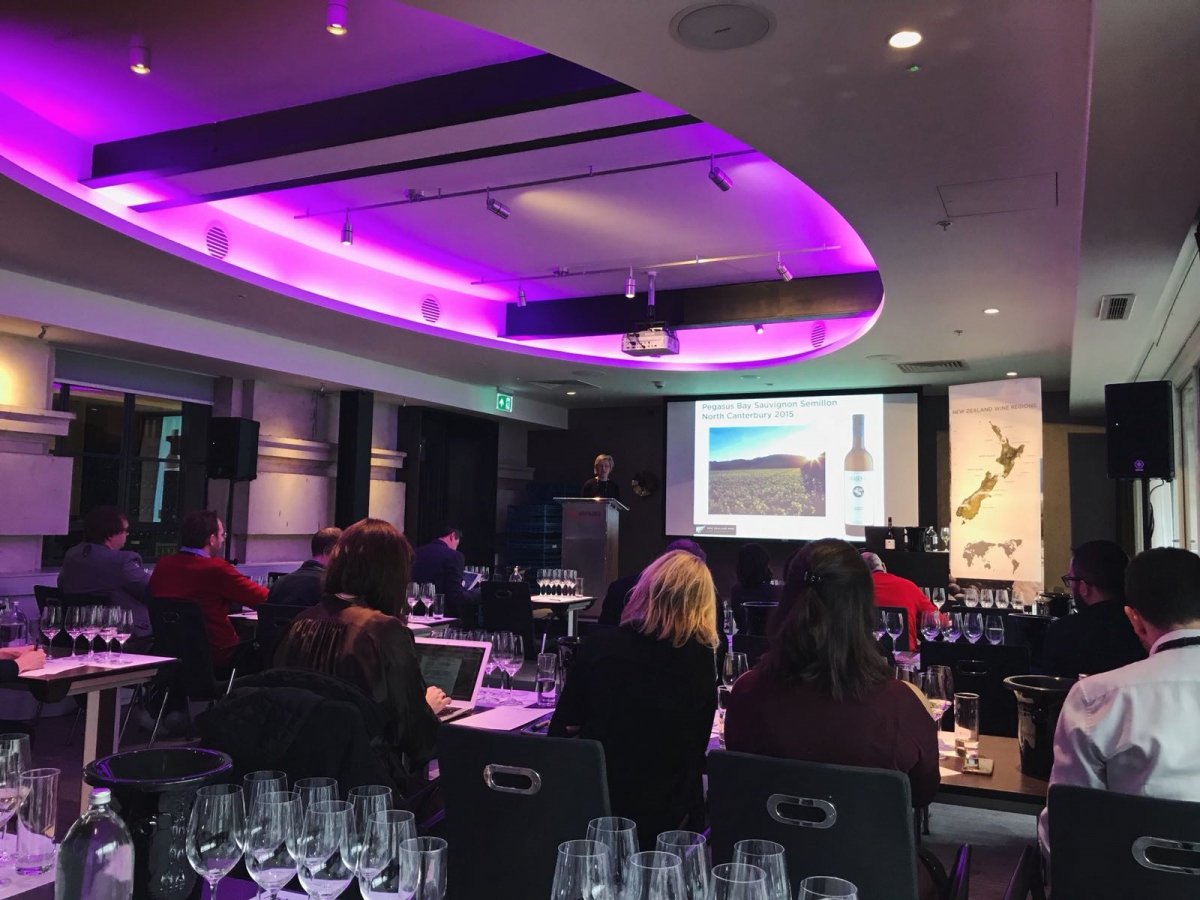 As well as presenting the wines to trade guests for tasting, the IWSC team also enjoyed meeting almost 20 medal-winning New Zealand wineries and tasting a variety of top wines from across the country.
"This was an exciting and varied showcase for New Zealand wine," IWSC general manager Adam Lechmere said. "What a range of superb wines, and I'm not just talking about brilliant IWSC Gold winners like the lovely Peregrine Riesling, the Tohu Rore Reserve Pinot, or the Spy Valley Gewurz. I was hugely impressed by the wonderful range of different expressions of the classic grapes winemakers are coaxing out of their soil: Sauvignon Blancs from steely and mineral to round and luscious, Pinot Noirs from lean and bright to rich and opulent – but always unmistakably of their place. It shows just how imaginative Kiwi winemakers can be with their signature grapes."
New Zealand Winegrowers events manager Sarah Shepherd added, "Flavours of New Zealand London was our 38th Annual New Zealand Trade Tasting in London, and we were really pleased with how it went. There was a really good buzz in the room, and the new venue was well received and helped us bring a fresh look to this year's tasting, with the shorter more frequent masterclass sessions being able to reach a lot more attendees."
The wines presented by the IWSC were: