IWSC Business Insight: Liberty Wines, IWSC On-Trade Wine Supplier 2019
Wine news


The background
In the late 1970s David Gleave MW (pictured), a footloose Canadian who had dropped out of a history and philosophy degree, was working his way around the world (in London, as a barman at the Music Machine in Camden, he rubbed shoulders with Joe Jackson and Iggy Pop, and Suggs from Madness), and found himself in Dublin.

There he was "drawn into wine", working for a wine merchant cataloguing "domaine-bottled Burgundies and clarets from the mid-60s and 70s. I found it fascinating." He passed his MW in 1986, and – fast forward to the mid-1990s – Gleave was heading the London-based Enotria Winecellars, under Italian supremo Remo Nardone. That didn't work. "I was fired by Remo in November 1996," he recalls. "I think he felt the business would be better off with one strong figure at the helm, rather than two." He had made some strong alliances though. "As soon as the announcement went out, a significant number of producers got in touch to say that they were going to come with me."


Gleave and his wife Luciann Flynn started trading as Liberty Wines on 10 March 1997 (the name was "not coincidental", Jancis Robinson wrote in the Financial Times). From the start the company has been underpinned by sound financial planning. The nascent distributor was backed by equally ambitious young producers: the likes of the Australian cousins Michael Hill-Smith and Martin Shaw who had set up their Adelaide Hills winery in 1989, and Marcel Richaud in the southern Rhone. Such support from an early stage "enabled us to grow steadily, without putting any strain on our cash flow," Gleave says.
Liberty today has a turnover of £82m, a staff of 180, and it trades in 1650 wines from 25 countries. France (119 producers), Italy (91 producers), and Australia (40 producers) have the strongest representation. Gleave reckons some 80% of the producers from 1997 are still with Liberty.
Company USP
The defining characteristic of Liberty Wines is simple. As Gleave puts it: "Our USP is excellence in everything we do."

He goes into detail: it's more complex than simply being about excellence of product. A distribution company is really a logistics company: the market is its area of expertise. "You're only as good as your last delivery. If, for example, they can't fulfil a restaurant's need to have a wine on the table, then that restaurant will find someone who can."


The products
It all starts with wine. Gleave says, "My background is wine, I love wine, I've been obsessed by it most of my life." The defining characteristic of every wine on Liberty's list is a sense of place. "Whether it's a £10 or £100 wine, we should talk about where it's from. That's really important to us as a company."

That's why, for example, they have four winemakers on the payroll working mainly in Italy and the south of France. "The team is on the ground so it can get to the grapes and preserve their character. Even if those wines are inexpensive, there's still an expression of where they're from. That is fundamental."
The list of Liberty's producers is impressive. Among the 91 producers from Italy, for example, the company looks after Isole e Olena, Aldo Conterno, Franz Haas, Fontodi, Allegrini, Biondi Santi, Costanti, Capezzana, Donnafugata, Vajra, Gaja – "a huge number of those that were originally with us are still there." Australia is no less stellar a list, from Shaw + Smith to Clonakilla, Charles Melton, Cullen, Grosset, Henschke, Mount Horrocks, John Duval… It's a portfolio that excites not because they are big names but because they are interesting.


Gleave explains that balance is important to the list. Liberty has just taken on Piper-Heidsieck for example. "We have to keep the balance right within the portfolio. We are many companies within one company: if we take on Piper for example, we have to make sure we also take on something small, and perhaps more esoteric, from the point of view of the perception of customers."
He's not complacent though. He recognises that Spain is currently one of the most exciting wine regions, with new, interesting young producers springing up from San Sebastian in the north to Andalucia in the south, from the Canary Islands to Castilla- La Mancha. "My message to buyers is, we need to do more on Spain," Gleave says. But again he stresses focus: "Italy, Australia and France are time-consuming. We have to recognise our strengths and not try to be all things to all people."

Breakdown of producers by sector
Alex Linsley, head of Liberty's Insight market research team, says, "We focus on the premium on-trade in our market insight because it tends to reflect developments in the market before other sectors. The premium on-trade also provides valuable lessons in how to grow value sales as wine volume consumption falls, by engaging consumers with high-quality wines. However, as said, when working alongside our customers, we tailor our work to their needs and analyse the parts of the market most relevant to them."


The challenges
One of the greatest challenges, Gleave says, "was starting in the first place. If I knew then what I know now, I don't know if I would have started. You're not aware of all the challenges you will face – the hard work isn't the problem." In the early days he would be up at dawn to take the orders off the answerphone. "I'd process the order, I'd pick it, I'd have it ready for our driver when he arrived and I'd load it onto his van until such time as we could afford to hire someone to do it."
Fear of failure is a hurdle to overcome, but "the key thing is not to worry about making mistakes. If you worry about that you won't do things. You have to accept that probably 20 to 30 per cent of the time you'll probably make the wrong decision, but the key is to recognise that, and go back and do it differently."
In fact, Gleave says, he has been remarkably lucky. "When was the first moment we realised it would work? Good question. In hindsight we never really doubted it. When we set up, the producers who came with us put money up to make sure we got off the ground."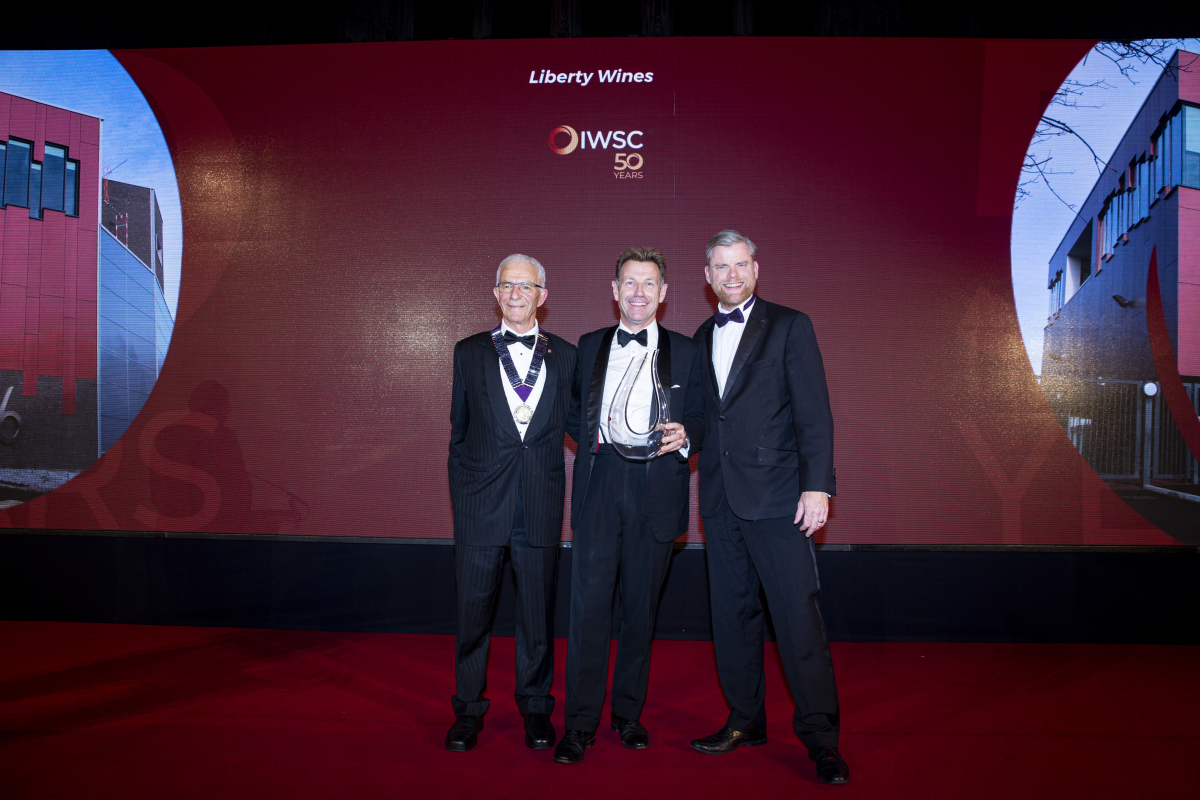 Liberty director of business development Tim Tweedy (centre) with IWSC President 2019 Sir George Fistonich and Mark Jones of Riedel at the IWSC Awards Banquet 2019

Learnings
There have been mistakes, of course. "Taking on producers who weren't right – there were some where you liked the story and you assumed they're going to get better," others who were big names but simply didn't fit. The number of producers Liberty has had to de-list over the last 20 years "is in double figures".
Entering the spirits market could be seen as a mistake, Gleave says. "A few years ago we looked very closely at spirits. It looked like the market was going in that direction, and we had a very clear idea about how we wanted to do it, with craft gins, new-style whiskies, rums." Their mistake was probably to be too cautious. "I don't think we believed in it enough." They didn't have a spirits specialist on the staff, for example, which was an error. "In the end we decided we were better off as a wine specialist.
In a word, this could be summed up as, "Focus. We went back to what we do well, and what we understand."
The key, of course, is to translate this learning into action. Gleave mentions the current trend for "low and no alcohol" wines. It's unlikely Liberty will get involved, he says. "Some of our customers want them, but in wine terms we are about as little intervention as possible. I fully accept there is a gap in the market for ["low and no" wines], and you could say we're being unimaginative, but the more we do it the more we realise we should focus on the market that we know."


Recommendations and advice
From the perspective of a quarter century in the business, Gleave offers several nuggets of advice for those starting out.


Look at things from the customer's point of view
"It's important to look at things from the customer's point of view rather than your own. You quite often come up with a different answer." Remember, for example, that running a restaurant a hugely complex business of which wine plays only a small part – but it's a vital part nevertheless. If you can't supply a particular wine, then find another. "If they get a slightly lesser Barolo then their view will be that for most customers it's fine: it's on the table, and they're not having to waste time to make up for your mistake." As he puts it, "if you can't take care of that headache for them, then they'll find someone who can."
Make sure you've got money in the bank
"It sounds simple, but one of the problems of a distribution company is that as you get more successful your stockholding increases because you're selling more and ordering more. So your debtors increase, because customers want credit. If you start the year with £1m of stock and £1m of debtors, and you have a good year and grow, where will you find the extra £1m to fund your business? You need to be working on sane margins in order to fund growth and fund the people you need to run the business."
"Looking back, this was one of the best decisions I made. Early on, someone told me you can keep control of all the shares, but you won't have any capital to grow with, or you can sacrifice shares and you will have capital to grow."
Remember you're a distribution company
It's all about wine, of course, but actually you're in the logistics business. "That is our area of expertise. We have 24-hour business: the warehouse is 24 hours, customer services is 7am to 11pm.


The future - Preparing for the next generation
In July 2019 the giant Portuguese wine group Sogrape (Sandeman port, Mateus Rose and others) took a majority stake in Liberty Wines. At the same time, Champagnes Piper-Heidsieck and Charles Heidsieck took a share in the company. Sogrape had taken a 25% stake in early 2017; Gleave realised the company would be an excellent fit for Liberty – as would Charles and Piper-Heidsieck. These decisions have been taken with the express intention of future-proofing Liberty Wines. "We have 180 people and 330 producers. How do you keep it going? I'm not getting any younger, and I wanted to make sure that when I retire they have backing and support. Sogrape and Charles and Piper-Heidsieck are family-owned so they are able to take a longer-term view."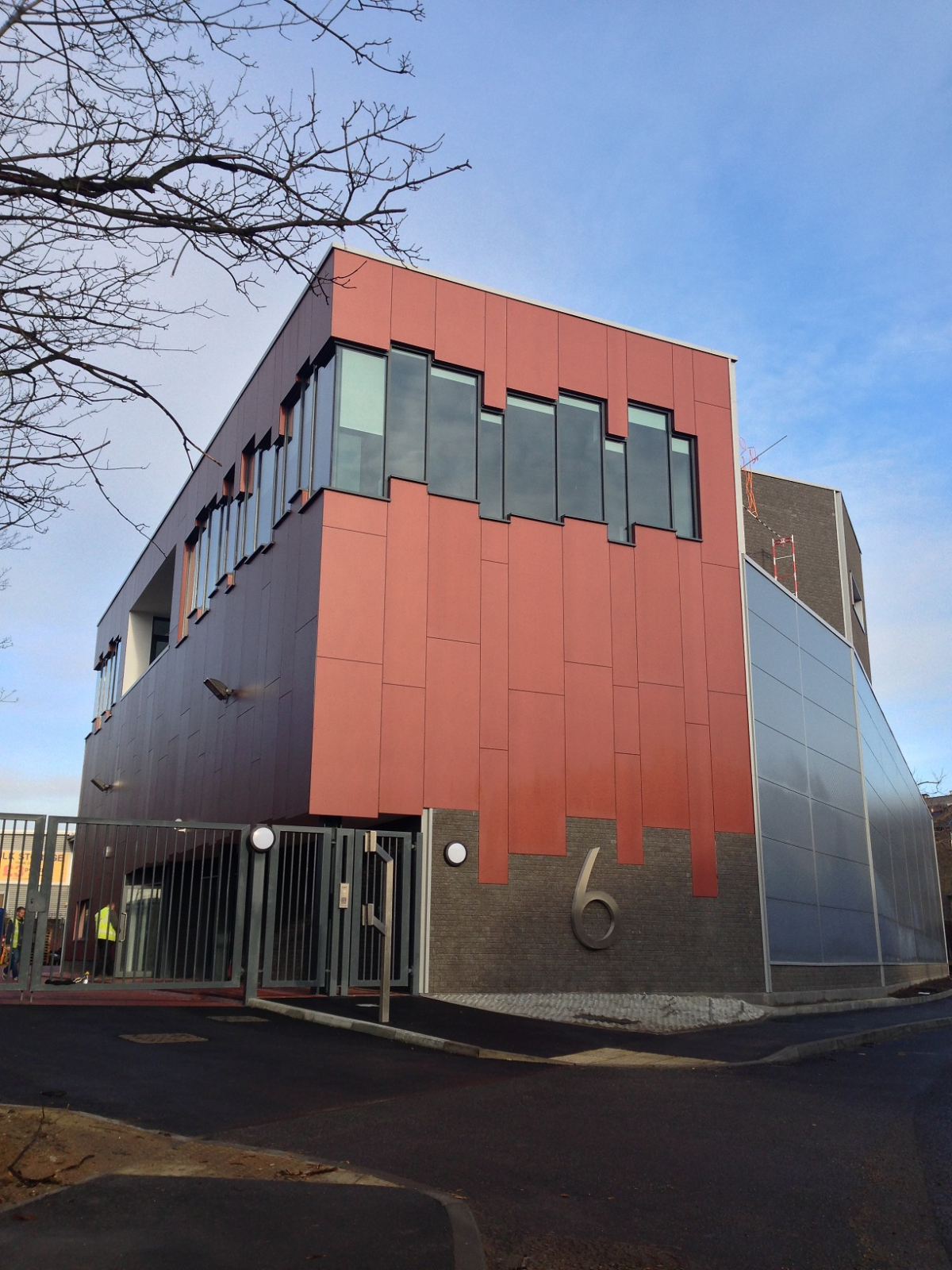 Liberty HQ

Inside information – what they say about Liberty Wines

Liberty Wines was named the IWSC On-trade Wine Supplier 2019, chosen for its "outstanding range and service," as John Hoskins MW said. Other judges praised its "consistency and great new world selection," and its "all-round list, supply, training and passion,"
When you ask Liberty's producers and clients for comment, the typical response begins, "We've been working with Liberty since…" and a date going back decades is mentioned. So veteran New Zealand producer and consultant Matt Thomson offers, "I've now worked with David Gleave since 1994", and Alberto Antonini of Poggiotondo in Tuscany and Altos Las Hormigas in Mendoza begins, "I've been working with Liberty Wines for 20 years." Another factor respondents have in common is the value they place on the whole relationship: this isn't just business, it's friendship as well. It's not about sales, "It's about seeding the ingredients of a long-lasting relationship with the trade," as Stephen Leroux, managing director of Champagne Charles Heidsieck says.


Read a selection of testimonials from the wine trade here:


Matt Thomson – consultant winemaker
Matt Thomson has worked over 50 vintages in numerous wine regions around the world, and has worked with David Gleave since 1994.
I've now worked with David Gleave since 1994. My first harvest in Italy for Liberty Wines was 1999. I've travelled to Europe four times a year since then to oversee the harvest, blending and bottling. Both David, and therefore Liberty Wines, have never been content with 'just good enough' and the considerable investment over this extensive time has been a testament to that. The aim of our projects together has been to get closer to the vast resource of vineyards under the control of the cooperatives in Europe. That consistency of supply, in terms of vineyard sources, sets these wines apart from the negociants who buy bulk wine each year from potentially multiple different suppliers each year. The key to that is relationships with the directors, winemakers, and sometimes individual members of the cooperatives. You don't build those relationships by aggressively negotiating prices each year. Liberty Wines has always paid more than the others to ensure we get the best. It must be sustainable for all parties involved, otherwise you risk losing the consistency.


Alberto Antonini – consultant winemaker
Alberto Antonini runs family winery Poggiotondo in Tuscany and Altos Las Hormigas in Mendoza, Argentina.
I've been working with Liberty Wines for 20 years and I've known David for over 30 years. I've always had a great respect for his talent and amazing knowledge of the UK and world wine market. For me as a consultant winemaker and wine producer, tasting and discussing with him has always been an important learning experience.
Being distributed by Liberty Wines in the UK means you are well respected by all those who are working in this business as you are associated with wine quality. That's because those who have being buying wines from Liberty since they started in 1997 always found great quality in their portfolio, which isn't easy to achieve when you have suppliers from all over the world...
As a supplier, I've always been paid perfectly on time as agreed and when that happens for twenty years in a row you really feel very safe.

Carlos Serrano - Export Director, Montes (Chile) and Kaiken (Argentina)

We are confident, after many years working with Liberty Wines, that our wines are being masterly distributed in the on-trade sector. The team at Liberty has always been very understanding of our aims as far as on-trade sales are concerned. Only an importer with the specific skills to sell quality wines to restaurants, hotels, and bars can do this so perfectly for so many years! We are so grateful for their permanent support.


Stephen Leroux - Managing Director, Champagne Charles Heidsieck

Liberty Wines is not 'just' a company, a wholesaler, a shipper. It's a team of people sharing their love for wine producers, their stories and terroirs, along with love for the restaurant and wine retail trade, all done with total commitment to servicing customers.
Liberty Wines is about seeding the ingredients of a long-lasting relationship with the trade; building true friendships, delivering on time to a level you don't see anywhere else in the trade, supporting customers in hard times, and never hiding an issue from a supplier.

That's how you gain respect from all. That's the kind of relationship we enjoy with Liberty Wines.