Wine Discovery 2019: Ningxia Jade Vineyard Winery
Wine news
Starting with its first vintage only five years ago, in 2014 – officially releasing it in 2016 – this Chinese winery has come a long way in a short amount of time.
Located among the eastern foothills of the Helan Mountain, in the Jinshan area near Yinchuan in China's northwestern region,
Jade Vineyard
sits at an altitude of 1,180m above sea level and occupies a 21-hectare site of which 15ha were specially selected to be cultivated for grape production.
The estate is owned by Emma Ding, who graduated with an MS in economics and had embarked on a career in banking before deciding to quit and pursue something she could be passionate about. Two wine shops and a wine club later, Ding decided to move into production.
Starting in 2013, Ding and her team spent three years preparing the vineyard sites and battling the area's arid/semi-arid climate alongside winter temperatures that regularly drop below -15C, forcing the need to bury grapes for protection.
Disease-free vines from a French nursery were imported and planted with classic Bordeaux grapes: Cabernet Sauvignon, Merlot, Cabernet Franc and Petit Verdot, plus small pockets of Marselan and Chardonnay, at a density of 3,180 vines per hectare.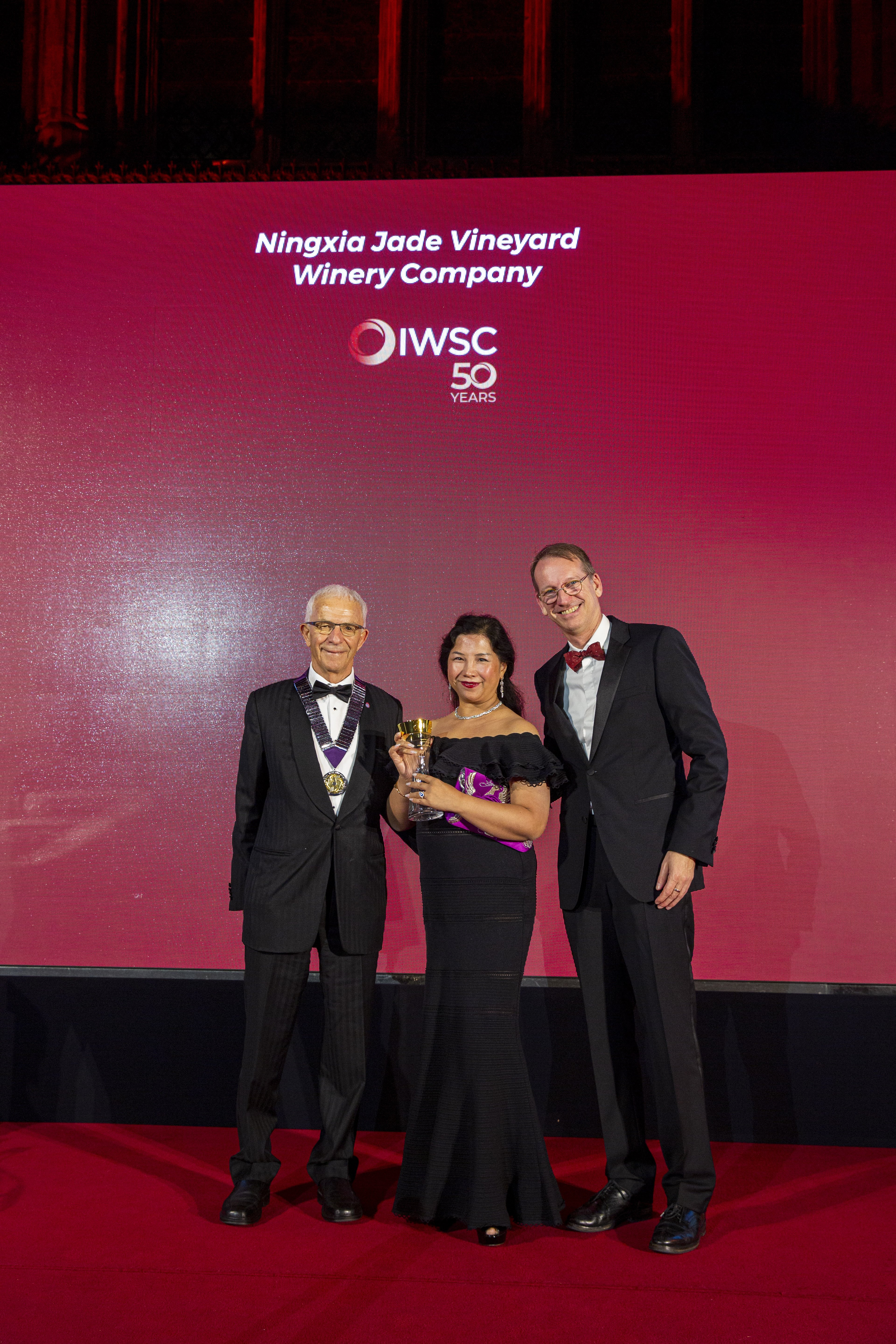 Emma Ding with IWSC President 2019 Sir George Fistonich and Michael Degen, e

xecutive director at Messe Düsseldorf at the IWSC Awards Banquet 2019
Ding's all-Chinese viticultural and winemaking team – led by veteran winemaker Zhou Shuzhen and viticulturist Zhang Guoqing – helped amass a trio of medals from this year's awards.
In September this year, Jade Vineyard celebrated the completion of its stunning, lowrise white-rock-covered chateau in Jinshan. Backed by the cloudcovered foothills of Helan Mountain, the building – which is now open to the public – also comes complete with a professional concert hall (another of Ding's passions) for the winery's annual music festivals.
Wine Discovery 2019 is sponsored by ProWein, the world's no.1 international trade fair for wines and spirits.