Olivier Ward's top 10 gins for Christmas and New Year
Spirit news
In the third and final of our series of best wines and spirits to enjoy over the holidays, IWSC Spirit Communicator of the Year Olivier Ward lists his top recommendations for gins to share with your friends and family this year.
Christmas shopping brings out the extreme of what we look for in gins throughout the year, and the hunt for beautiful packages containing beautiful booze takes on a whole new level of scrutiny. You want the wow factor to make a great gift (or a special treat) with both the look and feel of the bottle as well as what it delivers in the glass. Here are the top ten gins I have my eyes on this December and why…
Cotswolds Dry Gin

One of the stand out distilleries this year and not resting on their laurels, Cotswolds Dry Gin is one to watch and never disappoints. The gin is ideal for those who like a floral hit layered on a classic backbone, all wrapped in a pretty package that's ideal for the gifting season. With a bright citrus twang to taste and huge oil content that's evocative of the heady Cotswolds hedgerows during summer, it's not just the gin that'll be cloudy either – it'll have you reminiscing of holidays in no time.
Where to buy: Amazon, £32
Kyrö Napue Rye Gin

Finnish gin with a corresponding dose of scandi cool about it – Napue is perfect for G&T lovers. The makers have an informal and easy-going attitude which is reflected in the gin, but don't let this fool you; it delivers to the highest standards of any gin I know. In many ways, it's the utilitarian nature of it and the way that it systematically delivers which means that once you have it, use it and mix with it, you seldom find anyone who doesn't go back for another. And another…
Where to buy: Amazon, £34.95
Elephant Gin - London Dry Gin

With a fear of being denounced as the Grinch that I am, it's worth just being honest… There are occasions, especially at this time of year, when charity angles can sound twee. They become a strap line and a bandwagon that's longer that the Orient Express. Not for this team or for this gin however. Elephant Gin walks the walk like no other, began way before the train pulled up and brings a level of credibility and authenticity that those in their wake only dream of. Go full "bah humbug", however, and put that all aside (well, don't, it's both worthy of advocacy and applause) and look at the gin on its own merits, and you will find a nuanced flavour that combines the best of classical dry styles alongside clever use of African botanicals. A brilliant gin that's both the real deal and the full package.
Where to buy: Amazon, £36
Four Pillars Gin
Having celebrated their 4th birthday this week, Four Pillars and their team is an all-conquering force that combines everything you would want to have in a gin (or to give if you can honestly pry your fingers away and gift it to someone else). Loud, bold flavours that are well structured, layered and bring with them a delicious flavour journey that's surprisingly subtle in its detail. If that's not enough and you prefer buying based on who it's made by, well, this is brought to you by a team that imbue an immense passion for the craft of distilling everywhere they go. 4 pillars they may be, but this gin and this team are 5 stars.
Where to buy: Amazon, £36.95
Isle of Harris Gin

The packaging here has some of the best wow factor in any category, let alone in just gin. It is beautiful, incredibly tactile and it's impossible to not to be completely transfixed by it. Thankfully, the contents more than live up to it, with the touch of sweet sugar kelp complimenting a verdant juniper. With its community driven ethos, the distillery is worthy of some serious advocacy too.
Where to buy: Isle of Harris, £37
City of London Christopher Wren Gin

In my opinion, this is not only the best in their range of gins, but Christopher Wren Gin is a please-all that you can't go wrong with and does so without being a compromise of any sorts. Luxurious mouthfeel, booming juniper, soft citrus and effortlessly mixable – it's a world class gin that makes for a perfect gift. For yourself. In a case of six…
Where to buy: The Whisky Exchange, £39.95
Scapegrace Gold
One of the best Navy Gins out there, presented in an awe strikingly beautiful bottle – this is one to covet. If the wow factor of the bottle (that combines both historic aesthetic with modern design) didn't make your heart skip a beat – the burst of triple citrus will. Impressively, the texture is still full even at the lofty ABV. If you need a gin-based gift that really gets you into someone's good graces, look no further.
Where to buy: Amazon, £45
Brookie's Gin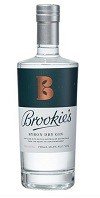 A relative newbie from Australia, Brookie's is making waves everywhere it goes. Get in early and grab one for yourself this Christmas and pretend like you were in the know all along, as it is one of the gins from Down Under that has the most potential to breakthrough in 2018. Sage and myrtle on the nose with a herbal green note that emerges on the palate and a warming cinnamon finish. It's got that strange dual tone of being familiar yet different in the exact same moment.
Where to buy: My Bottle Shop, £46.49
Hernö Export Strength Gin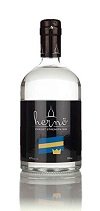 It's difficult to look past Hernö when looking for a gin to place in your cabinet. Quality and sublimely intricate layered flavours flow throughout their range, but this gin grabbed my attention for Christmas as it's both impressive in its own right, but can be used across a wide range of cocktails too. Try a pre-dinner Gimlet as an aperitif using this. Brilliant.
Where to buy: Amazon, £51.60
Kinobi Kyoto Dry Gin

Quickly gaining a cult following and hailing from a market that is gaining a thirst for gin and an unquenchable rate – Kinobi has it all. Either as a gift, or as a gin for your own enjoyment, there is a touch of exoticism about it. The cool bottle projects an image that the contents deliver to perfection. Delicious yuzu on the fore and a rich texture overall, it's hard not to daydream about what a trip to Japan in 2018 might be like. Be warned, get a bottle and it might just end up in booking a trip, so "plane rules" apply – you must be accompanied by a responsible adult….
Where to buy: Amazon, £52.03