Fri 9 Mar 2018
IWSC 2018 judging begins
Judging for the IWSC 2018 began this week, starting with judging sessions for northern hemisphere wines; they will continue until June.
The judging focuses on emerging regions and indigenous grape varieties to begin with: this week, wines entered from Georgia, Russia, Moldova, Romania, Japan, Bulgaria, Turkey, Lebanon, Israel and Egypt were judged, with Canadian and USA wines coming up next week.
Chair judge Matthew Hudson said "Tasting wines from emerging regions is very exciting for judges as they are introduced to some fantastic indigenous grape varieties, some of which there are only 15ha on the planet. Although judging wines from emerging regions can be hard work, it broadens the palate and keeps us on our toes, allowing for excellent debate in the rooms amongst some very experienced judges."
Fellow chair judge and MW student Kate Dowdeswell added "I love the first week of judging as we get to meet all our colleagues, and have the excellent opportunity to taste wines from emerging countries which are not easily available to taste in the trade up in London."
The judging sessions take place in the IWSC's dedicated premises, with a custom-built cellar to store wines and spirits. The schedule spans seven months of the year to cater to the varying harvests of the 90 countries that enter the competition, with judges tasting no more than 60 samples a day to avoid palate fatigue.
"I love judging at the IWSC because of the high level of professionalism amongst the panel of judges, the kitchen team and the operations. Every wine tasted is discussed which means that judges have to justify their mark", Dowdeswell said.
"Also, in case of any faults in the bottle, the judging is stopped and a fresh sample from another bottle which is held in the cellar is tasted immediately, so as not to lose the context of the wine style/grape variety. The environment in Dunsfold is very professional, fair and consistently high throughout the tasting year."
All northern hemisphere wine results (Europe and Russia, Asia and Africa – excluding Italy, France, China and South Africa) will be announced on 21 May at the London Wine Fair.
Find out more about the IWSC judging process and marking system here.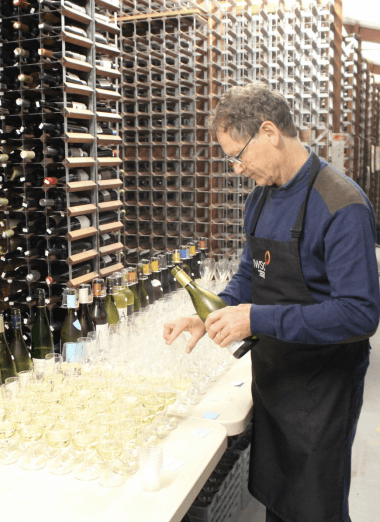 Enter Now
Buy Stickers & Artwork

Buy Award Winning Wines & Spirits
Search Winners