Six reasons to enter the IWSC
The IWSC is the longest-running wine competition in the world, with over 50 years' experience judging wines and spirits.
Wines and spirits entered into the IWSC are judged by high-profile panels with commercial buying expertise across a diverse range of backgrounds, ensuring the greatest objectivity of results.
The IWSC runs a dynamic year-round judging programme, with judging sessions spread across the year to accommodate the world's wine regions.
We go the extra mile to present IWSC medal-winners directly to industry professionals and key buyers, through tastings organised by our trade partners, international trade fairs, and partnerships with key retailers.
When you win a medal at the IWSC, we promote your brand to thousands of followers throughout the year via our extensive social media channels.
Gold medal and trophy-winning wines and spirits are presented for tasting at the prestigious IWSC Awards Banquet, held at the historic Guildhall in London – an event described by producers as 'the Oscars of the wine and spirits industry'.
Certificazione di qualità fidata
Con 50 anni di esperienza, IWSC è ampiamente riconosciuto come il concorso originale, più prestigioso e rispettato nel settore di vini e liquori in tutto il mondo

Il concorso è unico nel suo genere, grazie al processo di valutazione in due fasi che garantisce i risultati più credibili del settore

Il nostro premiato team operativo tratta ogni prodotto ricevuto dalle cantine dedicate con la cura e l'attenzione necessarie nella preparazione delle degustazioni per i giudici
Aumentare il tuo profilo
I vincitori del concorso ricevono un kit di strumenti di marketing gratuito che li assiste nella promozione e nel marketing delle medaglie vinte
Campagne sui social media dedicate – tra cui #winewednesday e #thirstythursday – consentono la promozione dei vincitori tutto l'anno presso i consumatori
Agenti internazionali e media partner lavorano in mercati globali per promuovere la conoscenza del concorso
Il concorso ospita e partecipa a diversi eventi ogni anno allo scopo di promuovere i vincitori
Incremento delle vendite
I vincitori vengono pubblicati in un supplemento realizzato da the drinks businesse distribuito a oltre 10.000 abbonati a livello internazionale per mettere in vetrina i prodotti vincitori proponendoli agli acquirenti di tutto il mondo

I vini e i distillati che si saranno aggiudicati una medaglia, disponibili nel Regno Unito, sono messi in evidenza su Amazon.co.uk e sul sito di comparazione dei prezzi Winesdirect.co.uk

Gli adesivi ufficiali delle medaglie IWSC consentono di porre in risalto i prodotti di qualità sugli scaffali affollati delle rivendite
Pubbliche relazioni internazionali
Un'agenzia di PR dedicata è incaricata di promuovere i successi dei vincitori sui media globali.
Assistenza per l'iscrizione
Se ti serve aiuto con l'iscrizione, scrivi un'e-mail al nostro premiato team operativo all'indirizzo info@iwscgroup.com oppure chiama il numero +44(0)1483 548 963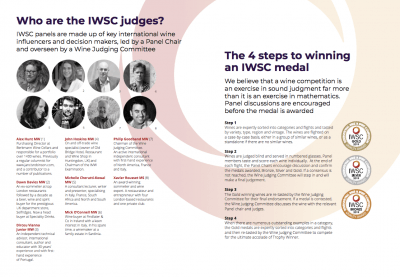 Wine entry pack
Want to know more about the IWSC? Download our wine entry pack
Download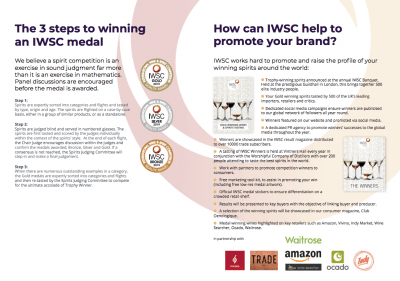 Spirits entry pack
Want to know more about the IWSC? Download our spirits entry pack
Download