Il trasporto può essere organizzato in uno dei seguenti modi:
1. Hellmann Worldwide Logistics
Tramite i nostri agenti di spedizione locali (elencati di seguito per paese)
2. Distributore Regno Unito
Attraverso un distributore nel Regno Unito
3. Indipendente
Puoi prendere accordi autonomamente, tieni presente che sarai responsabile di tutti i costi, tasse e imposte
We have partnered with Hellmann Beverage Logistics to make the entry process as easy as possible. For an additional £53 per entry for wine, no/low alcohol or vermouth, or £80 for spirits, entrants will be able to ship their products to the IWSC from selected offices of our partner. This price covers all duty.
Please use the drop down menu above to find your local participating Hellmann office and make sure you have checked our entry and shipping deadlines.
In order to qualify for this shipping you must deliver the entry to your local office by the group shipping deadline. You must contact Hellmann Beverage Logistics prior to sending your products. All boxes must be clearly marked with the address below, and include your company name.
If you have any questions about the group shipping offer, please contact info@iwsc.net.
Not using group shipping?
Please deliver three samples of each wine or sake, or two bottles of each spirit or vermouth entry directly or via an independent courier to the relevant address below.
Delivery address for wine, sake and vermouth - IWSC c/o Sensible Wine Services, Unit 10 Dana Trading Estate, Transfesa Road, Paddock Wood, Tonbridge, TN12 6UT, UK.
Delivery address for spirits - The International Wine and Spirit Competition Cellars, Building 17, Dunsfold Park, Stovolds Hill, Cranleigh, Surrey, GU6 8TB, UK.
Shipping wine to South Africa?
All South Africa entries for 2020 must be sent to Vineyard Hotel, Colinton Road, Newlands, 7700, Cape Town, South Africa.

Deliveries need to be made to the venue between 16-17 July 2020.

Please clearly mark all boxes as IWSC Competition, Vineyard Hotel Conference Centre.
However, we will also have a panel in the UK tasting wines from South Africa, to judge wines that are already in the UK.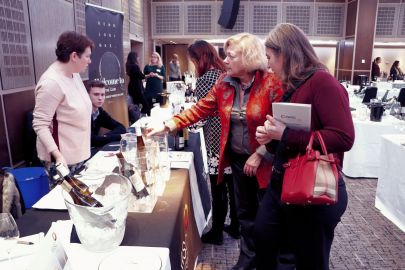 Bottle collection
Save on shipping costs by giving your samples to us in person. We will be collecting bottles at a number of key trade events around the globe, throughout the year. Upcoming events include Wine Paris and Prowein. This costs £26 for wine, no/low alcohol and vermouth and £60 for spirits.
Get in touch with our team for more information.