Six reasons to enter the IWSC
The IWSC is the longest-running wine competition in the world, with over 50 years' experience judging wines and spirits.
Wines and spirits entered into the IWSC are judged by high-profile panels with commercial buying expertise across a diverse range of backgrounds, ensuring the greatest objectivity of results.
The IWSC runs a dynamic year-round judging programme, with judging sessions spread across the year to accommodate the world's wine regions.
We go the extra mile to present IWSC medal-winners directly to industry professionals and key buyers, through tastings organised by our trade partners, international trade fairs, and partnerships with key retailers.
When you win a medal at the IWSC, we promote your brand to thousands of followers throughout the year via our extensive social media channels.
Gold medal and trophy-winning wines and spirits are presented for tasting at the prestigious IWSC Awards Banquet, held at the historic Guildhall in London – an event described by producers as 'the Oscars of the wine and spirits industry'.
Label de qualité et de confiance
Fort de 50 ans d'expérience, l'IWSC est largement reconnu comme le concours original de vins et spiritueux le plus prestigieux et le plus respecté au monde

Dans le monde entier, les consommateurs font confiance à la médaille de l'IWSC et la recherche activement au moment de leur décision d'achat

Ce concours de vins et spiritueux se distingue des autres ; il suit une procédure à deux étapes pour rendre son verdict et garantir que les résultats obtenus soient les plus fiables possibles

Quand elle prépare les dégustations pour les juges, notre équipe opérationnelle primée traite chaque produit reçu dans ses caves dédiées avec le soin et l'attention qui lui est du
Faites parler de vous
Les lauréats du concours recoivent chacun un guide marketing leur permettant de promouvoir leurs médailles
Nos campagnes sur les réseaux sociaux ciblant les consommateurs en utilisant par exemple #winewednesday et #thirstythursday permettent d'assurer la promotion des lauréats tout au long de l'année
Nos agents et partenaires médiatiques internationaux font la promotion du concours sur les marchés mondiaux
Le Concours organise et participe a de nombreux événements toute l'année dans le but de promouvoir les grands vainqueurs
Augmentez vos ventes
La liste des lauréats est publiée dans un supplément produit par the drinks business (le secteur des boissons), il est distribué à plus de 10 000 abonnés internationaux et présente les produits gagnants aux acheteurs du monde entier

S'ils sont disponibles au Royaume-Uni, les vins et spiritueux médaillés seront mis en évidence sur Amazon.co.uk et sur le site comparateur de prix Winesdirect.co.uk

Grâce aux vignettes officielles de médailles de l'IWSC, les lauréats se distinguent de leurs nombreux concurrents en rayon
Publicité dans le monde entier
Une agence de relations publiques dédiée a pour rôle de promouvoir les réussites des lauréats dans la presse internationale. Cliquez sur notre page de couverture médiatique ici afin de découvrir quelques unes des nombreuses publications dans lesquels les lauréats sont mentionnés.
Besoin d'aide pour l'inscription?
Si vous avez besoin d'aide pour participer, merci d'envoyer un email à notre équipe à l'adresse info@iwscgroup.com ou de nous appeler au +44(0)1483 548 963.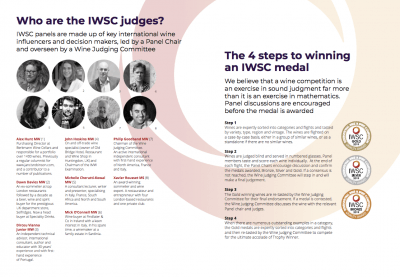 Wine entry pack
Want to know more about the IWSC? Download our wine entry pack
Download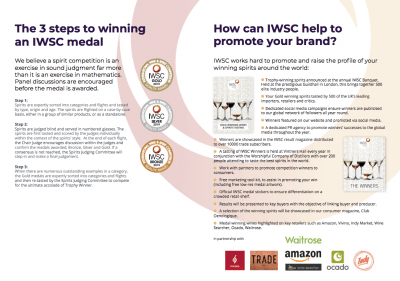 Spirits entry pack
Want to know more about the IWSC? Download our spirits entry pack
Download