La livraison peut être effectuée selon l'une des façons suivantes :
1. Hellmann Worldwide Logistics
Grâce à nos agents locaux de livraison (listés ci-dessous par pays)
2. Distributeur du Royaume-Uni
Grâce à un distributeur britannique
3. Indépendant(s)
Vous pouvez prendre des dispositions de manière indépendante, veuillez noter que vous devrez endosser tous les coûts, taxes et droits divers
Encore une fois, nous sommes en partenariat avec Hellmann Beverage Logistics afin de rendre vos envois encore plus simples qu'auparavant. Pour seulement £50 par vin inscrit, les participants peuvent envoyer leurs produits depuis les bureaux sélectionnés de notre partenaire, Hellmann Beverage Logistics. Ce prix inclus toutes les taxes.
Veuillez utiliser la barre de recherche ci-dessus afin de trouver le bureau Hellmann participant le plus proche. Cliquez ici pour les informations d'expédition.
Afin de pouvoir utiliser cette méthode d'expédition, vous devez avoir délivré vos produits au bureau le plus proche de chez vous avant la date limite indiquée ici. Vous devez contacterHellmann Beverage Logistics avant de leur envoyer vos produits. Tous les colis doivent être correctement étiquetés, avec l'adresse du destinataire et le nom de votre société.
N'hésitez pas à contacter info@iwscgroup.com pour toute information relative au groupage.
Vous ne souhaitez pas envoyez vos produits par groupage ?
Merci de bien vouloir faire livrer 4 échantillons de chaque vin et/ou spiritueux directement à l'adresse ci-dessous:
The International Wine and Spirit Competition Cellars
Building 17, Dunsfold Park,
Stovolds Hill,
Cranleigh,
Surrey, GU6 8TB,
UK
Vous envoyez du vin depuis l'Afrique du Sud
?

Tous les vins d'Afrique du Sud (4 bouteilles par produit) doivent être envoyés à Paarl à une adresse annoncée prochainement entre le

23 juin et le 6 juillet 2018

. La date limite pour les inscriptions en ligne est le

6 juillet 2018

.

Si votre vin est déjà au Royaume-Uni, merci de l'envoyer directement aux celliers du Concours.
Vous envoyez du vin depuis l'Argentine
?
Pour des informations concernant l'envoi de bouteilles de vins depuis l'Argentine, merci de vous abonner à notre newsletter afin de recevoir plus d'informations.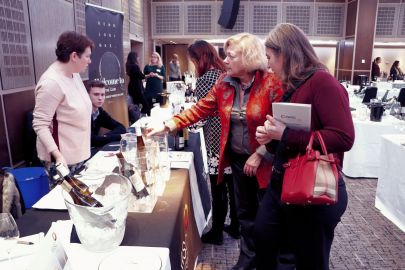 Bottle collection
Save on shipping costs by giving your samples to us in person. We will be collecting bottles at a number of key trade events around the globe, throughout the year. Upcoming events include Vinitaly and ProWein.
Get in touch with our marketing team for more information.