Outstanding Wine Producer 2019: Kanonkop
IWSC News
Created especially for our 50th year, this award recognises a producer that has not only excelled this year, but also since the creation of the Winemaker of the Year award in 1984.
South African wine producer Kanonkop has been awarded over 15 different individual trophies and achieved Winemaker of the Year four times in the history of IWSC.
Situated on the lower slopes of Simonsberg Mountain in the Stellenbosch region of the Cape, Kanonkop is one of South Africa's leading estates, often described as the equivalent of a premier cru, or first growth. The 125-hectare estate (100ha under vine) is run by Johann and Paul Krige, fourth-generation sons of founder Paul Sauer. It is among the most famous producers of Pinotage internationally, being one of the first ever estates to plant the grape - a crossing of Cinsault and Pinot Noir.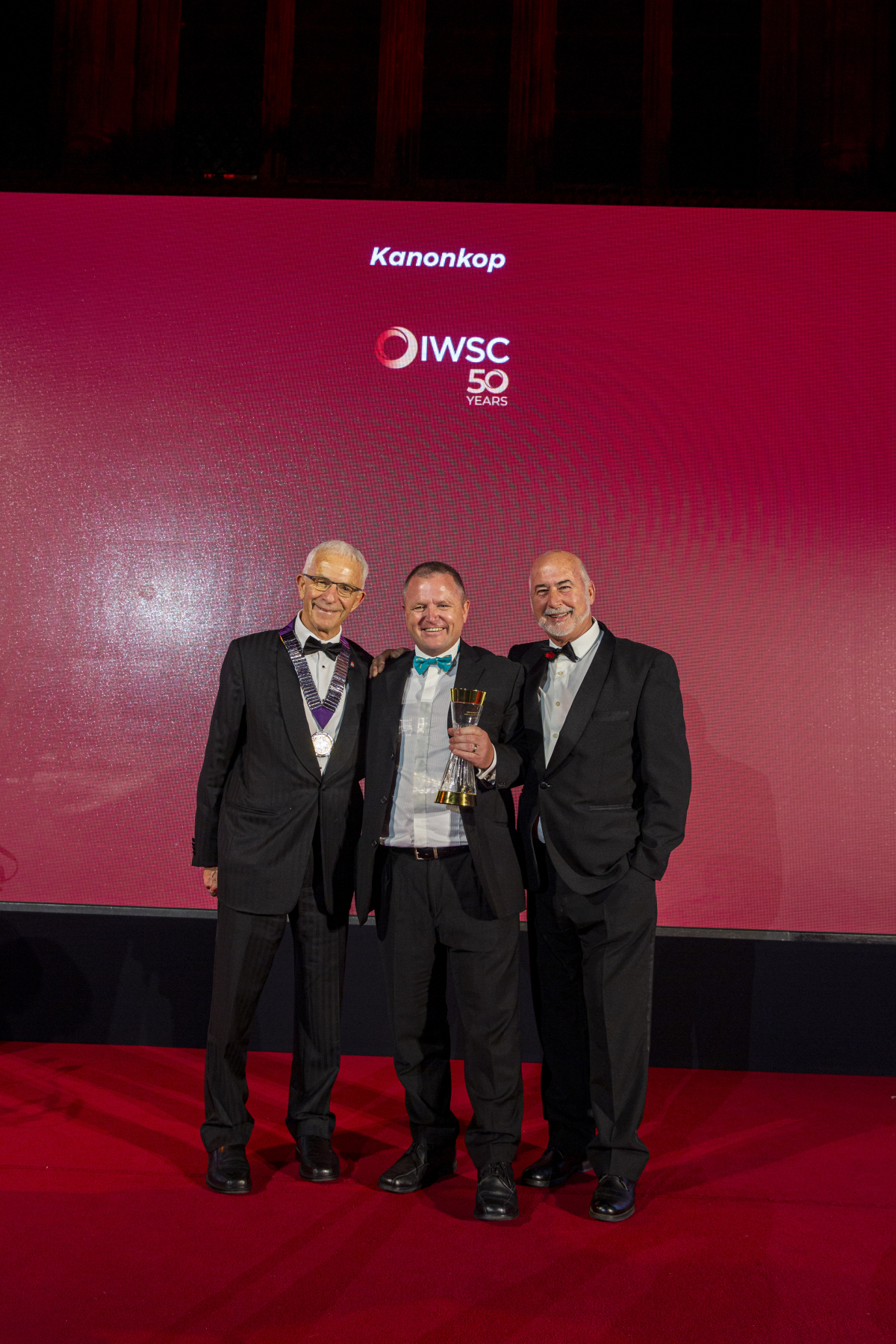 IWSC President 2019 Sir George Fistonich, Kanonkop winemaker Abrie Beeslaar and Beyers Truter, The Pinotage Association
Under the guidance of Pinotage expert winemaker Abrie Beeslaar, Kanonkop has become renowned for its red varietals, choosing to specialise in four grapes. Its famous dry-farmed Pinotage makes up 50% of all plantings, alongside Cabernet Sauvignon (35%), Merlot (75%) and Cabernet Franc (75%).
Wines are traditionally made in wide and shallow open concrete fermenters for maximum skin contact and aged only in French oak barrels, with cellaring, bottling and labelling done on the estate.
The portfolio includes Kanonkop's acclaimed flagship wine Paul Sauer, a Bordeaux blend composed mainly of Cabernet Sauvignon; an estate Cabernet Sauvignon; a Pinotage; and a Black Label premium cuvee. Its range of offerings is rounded out with Pinotage library releases and the top-value Kadette line, which is made from younger vines.
Outstanding Wine Producer 2019 is sponsored by The Pinotage Association, which works to maintain South Africa's leading role in the production of quality Pinotage wines.