Six reasons to enter the IWSC
The IWSC is the longest-running wine competition in the world, with over 50 years' experience judging wines and spirits.
Wines and spirits entered into the IWSC are judged by high-profile panels with commercial buying expertise across a diverse range of backgrounds, ensuring the greatest objectivity of results.
The IWSC runs a dynamic year-round judging programme, with judging sessions spread across the year to accommodate the world's wine regions.
We go the extra mile to present IWSC medal-winners directly to industry professionals and key buyers, through tastings organised by our trade partners, international trade fairs, and partnerships with key retailers.
When you win a medal at the IWSC, we promote your brand to thousands of followers throughout the year via our extensive social media channels.
Gold medal and trophy-winning wines and spirits are presented for tasting at the prestigious IWSC Awards Banquet, held at the historic Guildhall in London – an event described by producers as 'the Oscars of the wine and spirits industry'.
Sello de calidad y confianza
Con 50 años de experiencia, IWSC cuenta con el reconocimiento de ser la competición original con más prestigio y respeto del mundo en el sector del vino y las bebidas espirituosas.

Los consumidores de todo el mundo confían y buscan la medalla de IWSC al tomar sus decisiones de compra.

La competición es exclusiva en el sector del vino y las bebidas espirituosas al utilizar un proceso de evaluación en dos etapas para garantizar que IWSC arroja los resultados más fiables del sector.

Nuestro galardonado equipo de operaciones dedica a cada producto recibido en las bodegas especiales la merecida atención y cuidado que necesita en la preparación del material para los jueces.
Mejore su perfil
Los ganadores de la competición reciben un conjunto gratuito de herramientas de marketing para ayudarlos en la promoción y difusión de la consecución de la medalla.

Las campañas específicas en las redes sociales garantizan que los ganadores recibirán publicidad todo el año mediante actividades promocionales que incluyen al consumidor, entre las que se cuentan #winewednesday y #thirstythursday.

Los agentes internacionales y socios en los medios de comunicación trabajan en mercados globales para despertar el interés por la competición.

La competición celebra y alberga varios eventos al año con el objetivo de promocionar a los ganadores de la competición.
Aumento de las ventas
Los ganadores aparecerán en un suplemento elaborado por the drinks business distribuido entre más de 10 000 suscriptores internacionales, lo que hace llegar a los ganadores a consumidores de todo el mundo.

Los vinos y las bebidas espirituosas galardonados que están disponibles en el Reino Unido aparecen destacados en Amazon.co.uk y en la página web de comparación de precios Winesdirect.co.uk.

Las etiquetas oficiales del galardón de IWSC garantizan la diferenciación en el abarrotado estante de cualquier tienda.
Publicidad mundial
Se contrata a una agencia de publicidad dedicada para promocionar los éxitos de los ganadores en los medios de comunicación mundiales. Para ver los articulos sobre los ganadores del IWSC, click aquí.
Ayuda para la inscripción
Si necesita ayuda con su inscripción, envíe un correo electrónico a nuestro equipo de operaciones a la dirección info@iwscgroup.com o llame al teléfono +44(0)1483 548 963.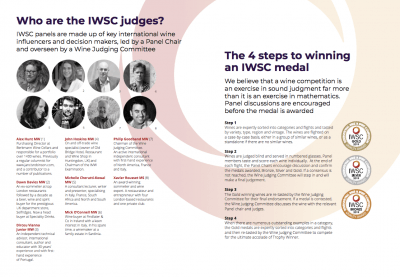 Wine entry pack
Want to know more about the IWSC? Download our wine entry pack
Download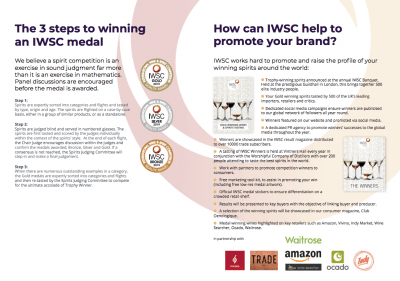 Spirits entry pack
Want to know more about the IWSC? Download our spirits entry pack
Download