Six reasons to enter the IWSC
The IWSC is the longest-running wine competition in the world, with over 50 years' experience judging wines and spirits.
Wines and spirits entered into the IWSC are judged by high-profile panels with commercial buying expertise across a diverse range of backgrounds, ensuring the greatest objectivity of results.
The IWSC runs a dynamic year-round judging programme, with judging sessions spread across the year to accommodate the world's wine regions.
We go the extra mile to present IWSC medal-winners directly to industry professionals and key buyers, through tastings organised by our trade partners, international trade fairs, and partnerships with key retailers.
When you win a medal at the IWSC, we promote your brand to thousands of followers throughout the year via our extensive social media channels.
Gold medal and trophy-winning wines and spirits are presented for tasting at the prestigious IWSC Awards Banquet, held at the historic Guildhall in London – an event described by producers as 'the Oscars of the wine and spirits industry'.
IWSC works hard to promote and raise the profile of your winning wines around the world:
Trophy-winning wines and spirits are announced at the annual IWSC Banquet. Held at the prestigious Guildhall in London, this event brings together 500 elite industry people.
Your Gold winning products are tasted by over 500 of the UK's leading importers, retailers and critics.
Dedicated social media campaigns ensure winners are publicised to our global network of followers all year round.
Winners featured on our website and promoted via social media.
A dedicated PR agency to promote winners' successes to the global media and throughout the year.
A dedicated Chinese media company to promote your winning products to the domestic market via social media.
Winners are showcased in the IWSC Winners Magazine, distributed to over 10,000 trade subscribers.
We work with trade bodies to promote competition winners at Prowein, Wine Paris, Vinitaly, LWF, Wines of Chile, Wines of Australia etc.
Work with partners to promote competition winners to consumers.
Free marketing tool-kit, to assist in promoting your win (low res for free medals).
Official IWSC medal stickers to ensure differentiation on a crowded retail shelf.
Results will be presented to key buyers with the objective of linking buyer and producers. A selection of the winning wines will be showcased in our consumer magazine, Club Oenologique.
Medal winners are highlighted on key retailers such as Amazon, Indy Market, Wine Searcher, Ocado, Waitrose.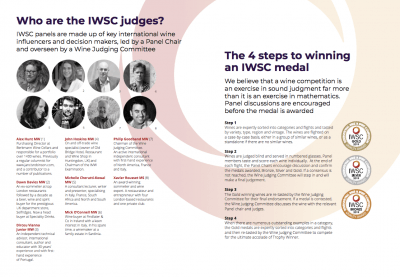 Wine entry pack
Want to know more about the IWSC? Download our wine entry pack
Download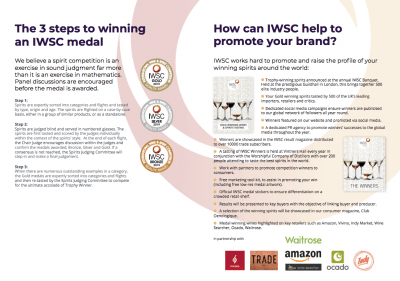 Spirits entry pack
Want to know more about the IWSC? Download our spirits entry pack
Download