Six reasons to enter the IWSC
The IWSC is the longest-running wine competition in the world, with over 50 years' experience judging wines and spirits.
Wines and spirits entered into the IWSC are judged by high-profile panels with commercial buying expertise across a diverse range of backgrounds, ensuring the greatest objectivity of results.
The IWSC runs a dynamic year-round judging programme, with judging sessions spread across the year to accommodate the world's wine regions.
We go the extra mile to present IWSC medal-winners directly to industry professionals and key buyers, through tastings organised by our trade partners, international trade fairs, and partnerships with key retailers.
When you win a medal at the IWSC, we promote your brand to thousands of followers throughout the year via our extensive social media channels.
Gold medal and trophy-winning wines and spirits are presented for tasting at the prestigious IWSC Awards Banquet, held at the historic Guildhall in London – an event described by producers as 'the Oscars of the wine and spirits industry'.
Bewährtes Gütesiegel
Mit 50 Jahren Erfahrung gelten die IWSC weithin als der originale, renommierteste und angesehenste Wein- und Spirituosenwettbewerb der Welt.

Globale Verbraucher vertrauen auf die IWSC-Medaille und suchen bei Ihren Kaufentscheidungen aktiv danach

Der Wettbewerb ist aufgrund seines Zweistufen-Beurteilungsprozesses, der gewährleistet, dass die IWSC die glaubwürdigsten Ergebnisse der Branche produzieren, einzigartig unter den Wein- und Spirituosenwettbewerben

Unser mit Preisen ausgezeichnetes Einsatzteambehandelt jedes in die entsprechenden Keller eingegangene Produkt mitder größten Sorgfalt und Aufmerksamkeit, wenn Weinproben für die Fachjury vorbereitet werden
Heben Sie Ihr Firmenprofil an
Die Sieger im Wettbewerb erhalten ein kostenloses Marketing-Toolkit, das ihnen bei PR & Marketing von Medaillengewinnen behilflich ist.
Spezielle Kampagnen in den sozialen Mediengewährleisten, dass die Sieger das ganze Jahr über durch verbraucherfreundliche Kampagnen, wie #winewednesdayand #thirstythursday, unterstützt werden
Internationale Agenturen & Medienpartner sind weltweit tätig, um die Bekanntheit des Wettbewerbs zu stärken.
Der Wettbewerb veranstaltet und besucht mehrere Veranstaltungen pro Jahr mit dem Ziel, die Sieger des Wettbewerbs zu fördern
Steigern Sie Ihren Umsatz
Die Namen der Sieger werden in einer von the drinks business produzierten

Werbebeilage veröffentlicht, die an über 10.000 internationale Abonnenten verteilt wird und Käufern weltweit die preisgekrönten Produkte vorstellt.http://www.thedrinksbusiness.com/

In Großbritannien erhältliche, mit Medaillen prämierte Weine & Spirituosen werden bei Amazon.co.uk und der Preisvergleichswebsite Winesdirect.co.uk hervorgehoben.

Offizielle IWSC-Medaillen-Sticker gewährleisten, dass Ihre Produkte sich auf einem überfüllten Einzelhandelsregal von anderen Produkten abheben.
Weltweite PR
Eine spezielle PR-Agentur ist damit beauftragt, die Erfolge der Sieger über die globalen Medien zu verbreiten Die Veröffentlichungen.
Hilfezur Teilnahme
Wenn Sie Hilfe bei Ihrer Teilnahme benötigen, senden Sie bitte eine E-Mail an unser mit Preisen ausgezeichnetes Einsatzteam unter info@iwsc.net oder rufen Sie an unter +44(0)1483 548 963.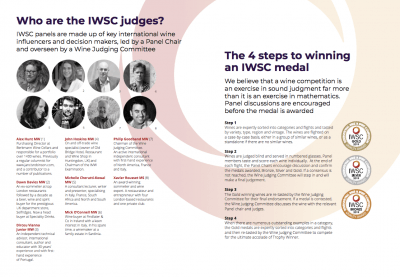 Wine entry pack
Want to know more about the IWSC? Download our wine entry pack
Download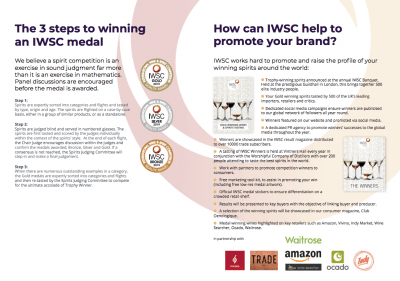 Spirits entry pack
Want to know more about the IWSC? Download our spirits entry pack
Download