Der Versand kann auf eine der folgenden Weisen veranlasst werden:
1. Hellmann Worldwide Logistics
Durch unsere lokalen Spediteure (unten nach Ländern aufgeführt)
2. Britischer Distributor
Durch einen britischen Distributor
3. Unabhängig
Sie können den Versand selbst arrangieren. Beachten Sie bitte, dass Sie für sämtliche Kosten Steuern und Abgaben verantwortlich sind
Wir arbeiten erneut mit Hellmann Beverage Logistics zusammen, um den Teilnahmeprozess noch unkomplizierter als zuvor zu gestalten. Für nur £ 50 pro Weinbeitrag können unsere Teilnehmer ihre Produkte von ausgewählten Standorten unseres Partners, Hellmann Beverage Logistics, für den Wettbewerb verschicken. Im Preis sind alle Zollgebühren enthalten.
Bitte nutzen Sie das Suchfeld oben, um Ihre Hellmann-Niederlassung vor Ort ausfindig zu machen. Die Versandfristen finden Sie hier.

Um diesen Versand nutzen zu können, geben Sie bitte Ihre Beiträge bis zum Abgabetermin für den Gruppenversand in Ihrer Niederlassung vor Ort ab. Bitte setzen Sie sich mit Hellmann Beverage Logistics in Verbindung, bevor Sie Ihre Produkte versenden. Auf allen Kisten müssen deutlich die unten genannte Adresse sowie der Name des Unternehmens angegeben werden.
Wenn Sie Fragen zum Gruppenversandangebot haben, schreiben Sie bitte an info@iwsc.net
Haben Sie einen Auftrag ohne Versand oder versenden Sie Spirituosen?
Bitte senden Sie 4 Proben für jeden Wein- und/oder Spirituosenbeitrag entweder auf direktem Weg oder durch einen unabhängigen Kurierservice an:
The International Wine and Spirit Competition Cellars
Building 17, Dunsfold Park,
Stovolds Hill,
Cranleigh,
Surrey, GU6 8TB,
UK
Shipping wine to South Africa?
All South Africa Wine entries (4 bottles per entry) must be sent to Vineyard Hotel, Colinton Road, Newlands, 7700, Cape Town, South Africa from 23rd June to 6th July. The deadline for online entries is July 6th.

If your South African wines are already in the UK, please send them to the Competition cellars.
All South African spirit entries must be sent directly to the UK
Shipping wine from Argentina?
Please subscribe to our newsletter to receive more information about the shipping deadline.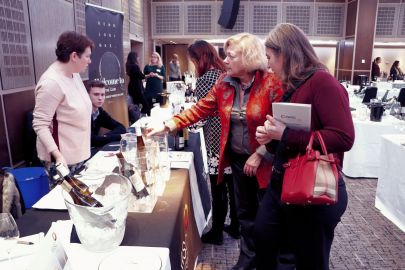 Bottle collection
Save on shipping costs by giving your samples to us in person. We will be collecting bottles at a number of key trade events around the globe, throughout the year. Upcoming events include Vinitaly and ProWein.
Get in touch with our marketing team for more information.